Hakeemat Muscat and Ottoman
shine in Abu Dhabi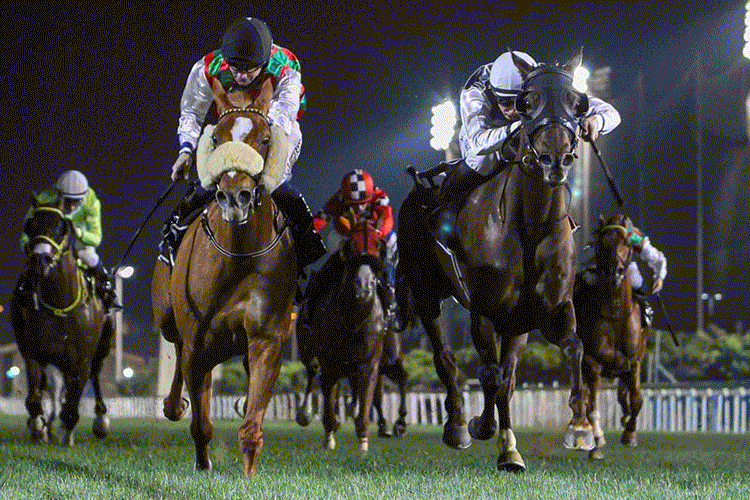 Hakeemat Muscat ridden by Szczepan Mazur
Sunday's racing, March 7, on the Abu Dhabi turf was officially highlighted by the 1400m Group 2 Liwa Oasis and it delivered a nail biting conclusion worthy of any feature race with the gallant, heartbreakingly for connections, Rawaa denied in the final strides by the persistent challenge of Hakeemat Muscat (Akim De Ducor x Djourella by Kerbella).
The pair, having seem off the challenge of eventual third MH Rahal, basically duelled throughout the final 225m with Hakeemat Muscat finally able to stick her head in front in the closing stages with the 6-year-old mare answering every urging requested by Szczepan Mazur.
Saddled by Ibrahim Al Hadhrami for Muscat Stud For Pure Arabian Horses the homebred has now won four times, twice in the UAE at Abu Dhabi, adding this prize to the 2400m Group 3 Arabian Triple Crown she landed in April 2019. She was, it appears, promptly retired. 
Mazur said: "The trainer has just told me this will be her final race, so that is the perfect farewell to racing. She is a very good mare who will, hopefully, be a good asset for breeding. She is not always the easiest to get to the front, but tonight she has really fought well for me and that is her biggest win, so as I said; the perfect swansong."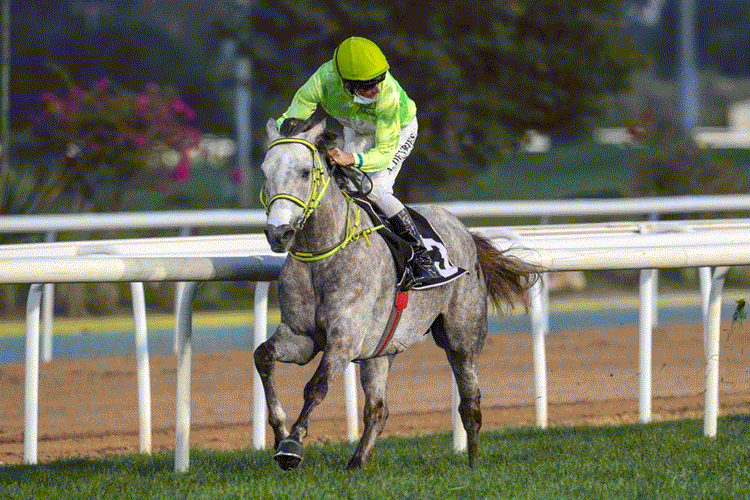 Ottoman ridden by Adrie de Vries
The main support race, restricted to the 4-year-old Purebred Arabian Classic generation, was the 2200m Group 3 Arabian Triple Crown R2 which, on paper at least, looked competitive but, in reality, the vast majority among the capacity field of 14 may as well have stayed at home.
Riding in the lime green silks of Al Ajban Stables for trainer Abdallah Al Hammadi, 'the flying Dutchman' Adrie de Vries went straight to the front on Ottoman (Valiant Boy x Caviyar by Calin De Louve) and they hardly sensed a rival. Seemingly allowed to set easy fractions, De Vries pressed the accelerator entering the relatively short straight, after which the race was basically over as a contest.
The striking steel grey colt was opening his turf account, at the fifth attempt and doubling his career tally having won a 1600m maiden at Al Ain by an unchallenged ten lengths on just his second racecourse appearance in November.
De Vries, completing a rapid double, said: "I have not ridden the horse before, but I have watched all his races back and I really thought this longer trip was going to suit him. It has! The trainer told me to be handy, but we broke well and I was able to get an easy lead, so I was always happy. When I asked him at the top of the straight he put that to bed quickly. The trip has really suited him, as we thought it would."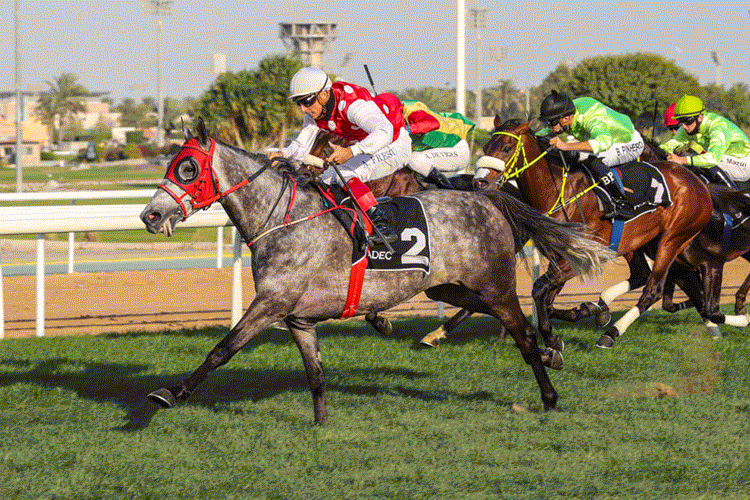 Gurm ridden by Antonio Fresu
A 2200m maiden raised the curtain and, eventually, was won fairly comprehensively by Gurm (Dahess x Nevada Du Loup by Manganate), opening his account at the tenth attempt for Eric Lemartinel and HH Sheikh Khalifa bin Zayed Al Nahyan.
Actually making his turf debut, after nine Al Ain appearances, the gelded 5-year-old homebred was far from fluent as the stalls opened, but was able to secure a decent midfield position under Antonio Fresu, partnering him for the first time. The duo hit the front about 275m from home and always looked in control thereafter. 
Fresu said: "This horse has bene running some good races at Al Ain and seemingly improving all the time. This was his first start on grass and, after being slightly slowly away, he has picked up nicely when I needed him to. You would think he will build on this because he is a nice, young, horse who clearly goes on different surfaces."
Lemartinel added: "This was his first race on the grass and we had been aiming at it because there are not many available turf races for him, so this was ideal."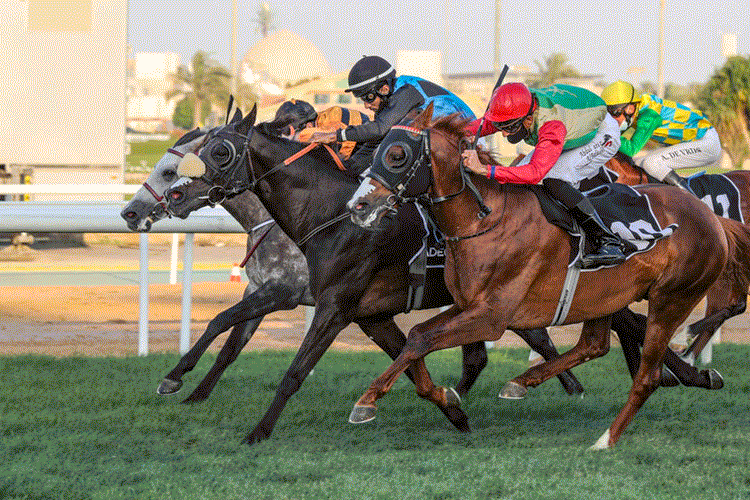 AF Nafece ridden by Al Moatasem Al Balushi
A 1600m handicap was won in the most determined fashion by AF Nafece (AF Al Buraq x Bucelia Du Cayrou by Dormane), ridden by Omani Al Moatasem Al Balushi, who was not only doubling his own account for the campaign, but also that of trainer Mohd Ramadan. The pair hit the front exiting the turn for home and shrugged off a persistent challenge from eventual third, Fakhr, and just thwarted the desperate late lunge of Dastour.
In doing so, the 8-year-old gelding doubled his career tally, supplementing a 1400m Abu Dhabi success in a maiden in April 2019 for his breeder, Khalid Khalifa Al Nabooda, Tadhg O'Shea and Ernst Oertel.
Ramadan said: "The 1200m at Sharjah last time was not far enough and he is better on turf, so when he was second reserve, we just hoped he would get in. We had the jockey booked, but have had to change three times! Luckily, there were non-runners, so he was able to take his chance. That was very pleasing."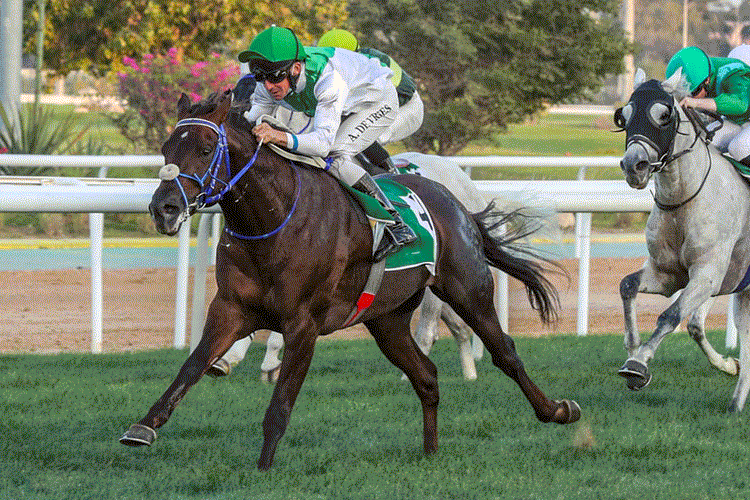 Ashton Tourettes ridden by Adrie de Vries
In the Wathba Stallions Cup for Private Owners Only, a 1200m handicap attracted a field of just ten in which Adrie de Vries was content to bide his time on Ashton Tourettes (No Risk Al Maury x Neida Tourettes by Dormane) in the colours of Ziad Galadari for Sharjah handler Ibrahim Aseel. 
Certainly not the fastest away, the 6-year-old entire suddenly loomed behind the leaders in the straight before unleashing decisive acceleration in the final 125m to, ultimately, win decisively. It was a second career success for the horse, adding to his 1200m maiden victory over 1200m on the Sharjah dirt in December 2018.
De Vries, who was replacing the unavailable Dane O'Neill, said: "That was a nice spare ride! I have never sat on the horse, but the trainer was, I think, quietly confident and just told me to give him a chance. We slightly missed the break, so I did not rush him and then, when I asked, he produced a really good turn of foot. I was impressed."
Source: Emirates Racing Authority