PVE Remington -– Australian Racing Royalty
Article by Nadine Frampton and Michelle Lee Fraser
Photo Credits: Julie Cooper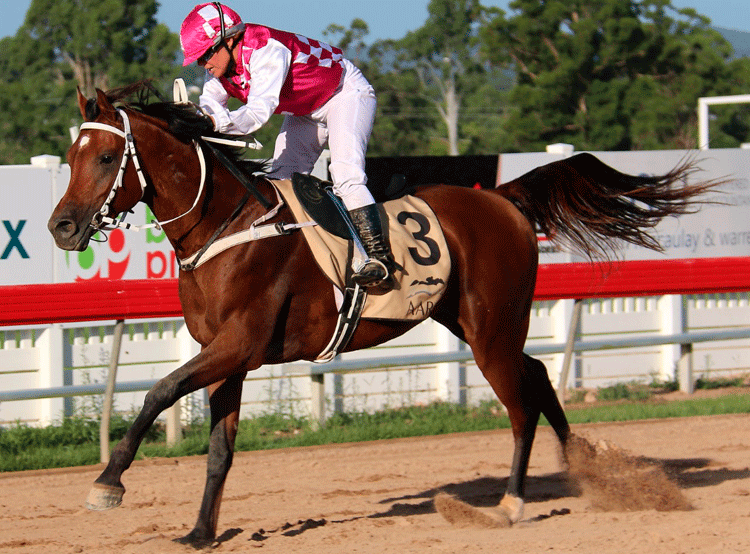 Following a hiatus from horses, Renee Kelso's equine passion was reignited after her ever supportive husband; Kane encouraged her to follow her heart. A chance meeting at an endurance event that resulted in an unexpected ride subsequently whet their appetite for Arabians. Rather fortuitously, at one of the ensuing endurance rides, Arabian Sprint Racing was advertised which piqued their interest and before they knew it, they were attending the very next Australian Arabian Racing Club Meeting at Torbanlea. They found everyone so friendly and helpful it made the transition easy from the other equine disciplines, that they had previously been involved in.
Their first purebred Arabian racehorse was Bonnie Doon Ashquar. Although he was only 14.3hh, he placed third in his maiden race. An accomplishment that was all the more thrilling, as Renee was able to share this special moment with him, as his jockey.
An unexpected call came one night from a gentleman who introduced himself as Steve. He had called to check up on his old Anglo mare that was now owned by Renee and Kane. They ended up chatting for hours about horses and an offer from Renee to come up and ride in some of his green horses, including a cheeky 3yr old colt, ensued. The Kelsos embarked the 4 hour drive north to Bracewel. Arriving late, they bunked down in the old dairy shed and awoke early the following morning. From the moment their eyes rested on the gorgeous, masculine bay colt, eagerly galloping towards them and delighting them with his rhythmic, floating movement, they knew he had to be theirs.
The following day when Renee mounted this young colt, in only his second time under saddle, her experience told her that he possessed the athleticism, movement, trainability and temperament to be a top ridden prospect in any discipline. Negotiations were made for his acquisition in May 2017 and the decision was quickly made to put Remy into race training.
RACING
| | |
| --- | --- |
| | |
Remy's first unofficial sprint race was at Torbanlea Exhibition Race in the Purebred Arabian 1600M Sprint. He led the field from the get go but was pipped at the post by a nose. An admirable effort for his first ever starts. His next race at Gympie was the extremely professionally run Australasian Arabian Racing Club Maiden and was memorable due to the sand track. It was 1200M and he jumped well from the barriers but got the shock of his life when sand was flung up towards his face from the other horses. He decided he didn't like that and dropped back 10-15 lengths, to last in order to avoid the ungodly mess. As his jockey, Renee didn't panic. She knew he had it in him to recover, if he could just get his head around the situation. She took him out wide with 600M left, to give him a clear run and asked him for more. As his confidence grew and he caught sight of the finish line on the last bend, he found another gear and left the other horses in his dust, winning the race by 11 lengths. His run took everyone's breath away and the decision was made that he had what it takes to be a top class Arabian sprinter.
Unfortunately, the following year was very busy for the Kelso's and Remy only managed to attend 5 out of the 9 sprint races scheduled but won all 5 he attended. In his first race of 2018 he was more than a little enamoured with Jill Colwell's beautiful mare and being a true gentleman, decided to wait for her. Renee quickly decided to take him out wide to refocus his attention on the race but he had left his run too late and he had to be satisfied with third due to his roaming eye. The rest of the 2018 season, Remy cemented himself as Australian racing royalty by winning every other race and the hearts of many followers. Additionally, Remy is so versatile he has also turned his hoof to endurance racing where he behaved exceptionally well in mixed company and was able to successfully complete a number of Endurance events to become an Open Endurance Horse.
BREEDING
| | |
| --- | --- |
| | |
PVE Remington was bred by Peter Rutten of De-Sharvarll Arabians and was bought in-utero by Rose Siddins when she purchased De-Sharvarll Diamonds in foal to the Mulawa bred stallion Maximilliano. Maximilliano is well known to the Australian Arabian community as a very well esteemed show horse, winning at the highest level. His sire line traces back to Aladdinn, US and Swedish National Champion, through Guiliano and boasts Russian and Polish influences including Padrons Psyche. Both the Russian and Polish programs are well known for their athletic horses and long racing histories. Maximillano's dam, Mustang's Magnum incorporates a blend of Crabbet, Egyptian, Polish and Russian lines including greats such as Magnum's Psyche, Bey Shah and the double Bask grandson BPL Dante. De-Sharvarll Diamonds traces to the very important Morafic Egyptian sire line through Simeon Sayter, who was bred by Maion Richmond of the legendary Simeon Stud. With genetic giants such as Anaza Bay Shahh, Bint Deenaa, Simeon Sadik and Asfour providing important outcross opportunities to the predominantly Polish and Russian pedigree and reflecting the Egyptian history of race testing their horses. The dam line is a combination of Crabbet and Spanish pedigrees, tracing through another well-known stud, Bremervale who are well renowned for both their show record and endurance accolades.
PVE Remington's pedigree combines an eclectic collection of some of the most well-known breeding programs and Arabians from around the world. This magnificent combination of world class bloodlines has melded together to create a unique individual with a depth of pedigree and hybrid vigour.
PVE Remington was recently awarded a Lifetime Achievement Award from the Arabian Horse Society of Australia for his racing achievements and has an exceedingly bright competition and breeding future ahead of him. To be considered a worthy recipient of this award, the horse must have been deemed an exceptional representative in Arabian racing, with performance that would be recognised outside of the Arabian industry. These awards were introduced by the AHSA to acknowledge horses who are outstanding in their fields and promote the breed as a whole.
As everyone eagerly anticipates the return of the adrenaline rush that racing brings, plans for Remy to return to competition following the COVID-19 lockdown are in full swing with Renee and Kane overseeing his training and breeding commitments at Kelso Racing. Located at their new horse training and breeding complex named Bonnybrook, at Harvey Siding just north of the Gympie.
Race Results:
October 2017 Exhibition Race (Remys first Race) 1500M 63kg 2nd
November 2017 Gympie Sand Track 1170M Australasian Arabian Racing Club Maiden 1st
27th January 2018 – 1200M – Warwick Turf Club – 3rd by 5.25L Jockey (Renee Dawkings) wt 61kg CLASS 2
3rd March 2018 – 1170M – Gympie Turf Club – 1st by 9.75L Jockey (Renee Dawkings) wt 60kg CLASS 3
14th April 2018 – 1200M – Warwick Turf Club – 1st by 4.75L (Renee Dawkings) wt 62.5kg CLASS3
26th May 2018 – 1600M – Nanango Turf Club -1st by 2L (Renee Kelso /Dawkings) wt 63kg OPEN
28th October 2018 – 1500M – Torbanlea Exhibition Race – Australian Purebred Arab Race – 1st by a length (Renee Kelso wt 62kg) OPEN
2nd December 2018 – 1600M – Nanango Turf Club – 1st by 6.75L (Robbie Faehr) wt 63kg OPEN
August 2019 - 1170M - Gympie Sand Track - 1st by (Robbie Faehr) BIG WEIGHT 66KG - OPEN
September 2019 - 1600M - Nanango Turf Club - 2nd by a whisker (Robbie Faehr) BIG WEIGHT 67KG - OPEN