Pinheiro double includes Abu Dhabi feature with Fresu taking Thoroughbred equivalent as part of his brace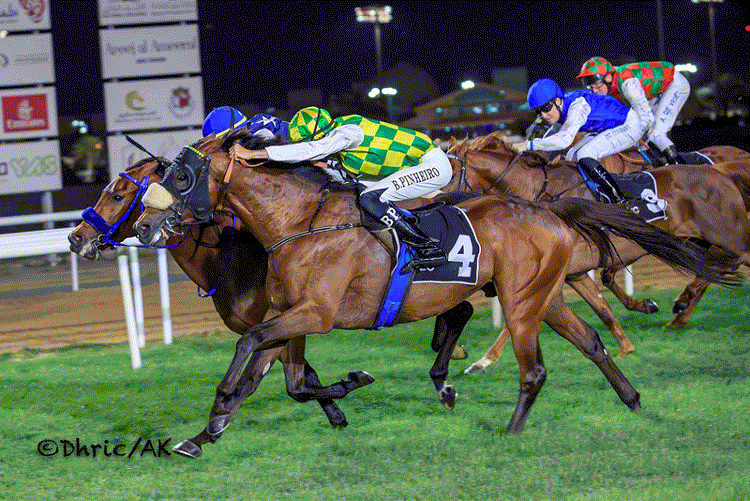 Harrab ridden by Bernardo Pinheiro
Sun, 20/03/2022 - Sunday's penultimate and one of the best fixtures of Abu Dhabi's entire season ˜was highlighted by the 2200m Group 1 Emirates Championship, worth AED1 million and it produced a thrilling finish with Harrab (Bibi De Carrere (FR) - Waahiba (FR) by Akbar (FR)) denying Jawal Al Reef (Bibi De Carrere (FR) - Darffa (FR) by Kesberoy (FR)) in the shadow of the post.
The pair had traded the lead throughout the final 200m but it was Al Wathba Racing's horse that prevailed under Bernardo Pinheiro for Majed Al Jahoori.
Pinheiro had closed rapidly leaving the back straight and his mount responded to every urging throughout the straight.
Homebred, the 7yo entire was winning for the third time, all in the UAE and twice here at Abu Dhabi, including on his local debut in the Group 3 Arabian Triple Crown R2, over this 2200m, in March 2019.
Pinheiro, completing a double, said: "I have a contract with the trainer this year so I am delighted to win this big race for them and this is a lovely horse. I was confident on the home turn and, although it was close, I knew we had won crossing the line."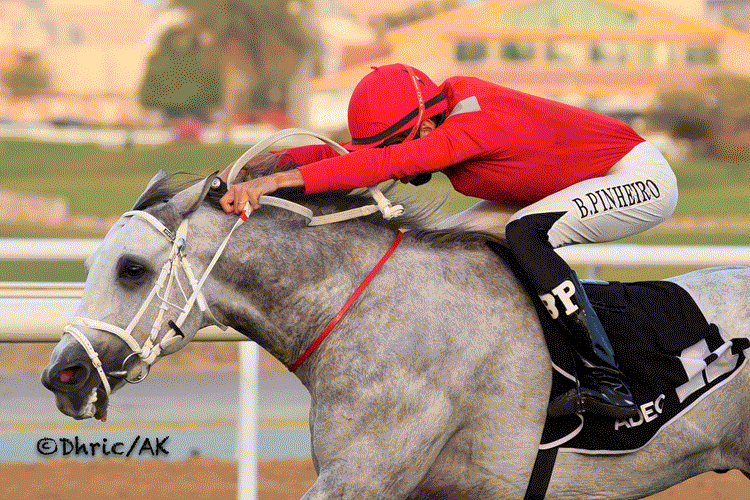 Sharkh ridden by Bernardo Pinheiro
Riding for Abu Dhabi Racing and Mohamed Daggash, Pinheiro sent Sharkh (Majd Al Arab (GB) - Siheme (FR) by Dormane (FR)) for home at the top of the straight in the 2200m handicap and the result was never in doubt pretty much thereafter, the pair wining easily.
Settled just behind early leader No Riesgo Al Maury (Nizam (GB) - No Worry Al Maury (FR) by Dormane (FR)), that was probably the only rival they saw throughout the contest and they shot past him with just over 400m remaining.
A 6yo entire, he was registering his third career victory but first since a similar handicap, over the same track and trip, late last January.
Pinheiro said: "The trainer was confident in his chances and I was happy to track the early leader before going for home on a horse we know stays well."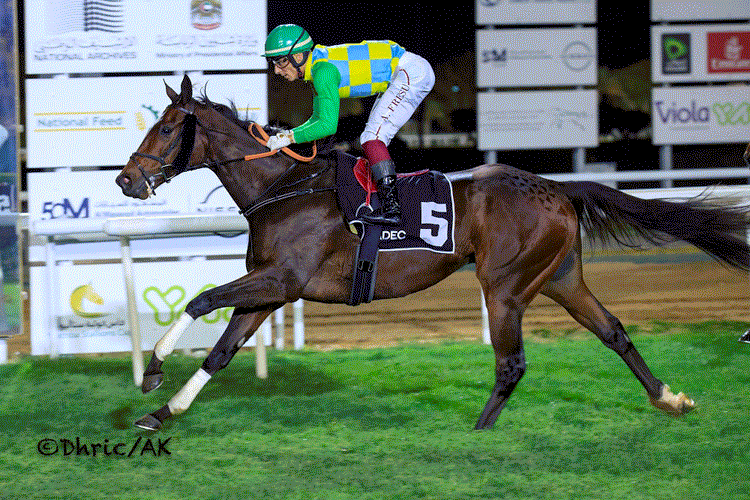 Law Of Peace ridden by Antonio Fresu
Over the same 2200m as the Purebred Arabian feature, the Thoroughbred equivalent, the Listed Abu Dhabi Championship looked set to be a landmark occasion when Uruguay's El Patriota (Ecologo (ARG) - Patria Mia (ARG) by Pure Prize (USA))  shot clear at the top of the straight only to tire in the final stages and get picked off by Naser Askar's Law Of Peace (Shamardal (USA) - Certify (USA) by Elusive Quality (USA)), saddled by Bhupat Seemar and completing a double on the card for Antonio Fresu.
It was a fourth victory this year and third consecutive success for the 5yo Shamardal gelding following a pair of 1600m Meydan wins, the first on dirt, more recently on turf.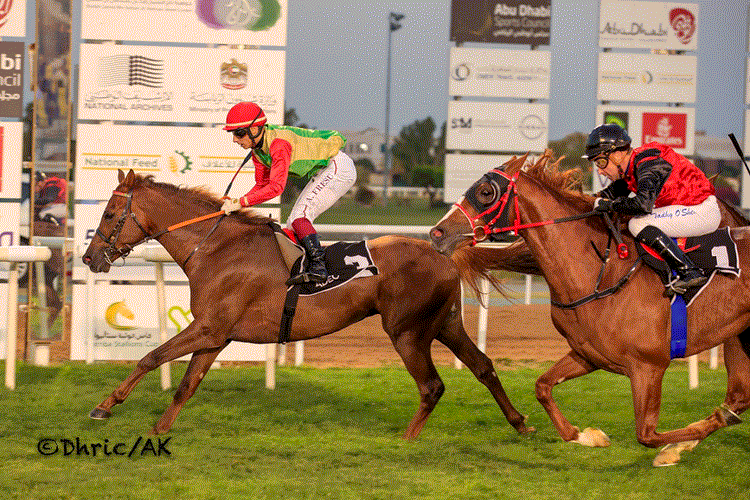 Haroon ridden by Antonio Fresu
Also over 2200m, a 4yo Prestige contest, the UAE Arabian Derby, was won in scintillation fashion by Haroon (Nizam (GB) - Myra De Monlau (FR) by Munjiz (FR)), produced to lead close home by Fresu for The Omani Cavalry and completing a double for Ibrahim Al Hadhrami.
Previously a maiden after just two 1800m starts, one apiece on the Meydan and Al Ain dirt tracks, he was fourth at the former, third at the latter and clearly relished this change of surface and extra stamina test.
A long way off the early pace, he responded in style to Fresu's urgings, quickening nicely while still showing his inexperience, to pass both AF Mualami (Murhib (QA) - Khute (FR) by Djouras Tu (FR)) and Sultana (AF Al Buraq (AE) - Tawaazun (FR) by Monsieur Al Maury (FR)) in the final 50m. The latter was very short of room, between the other pair, approaching the line.
Source: Emirates Racing Authority