RB Lara dominates Wathba Stallions Cup
race in Texas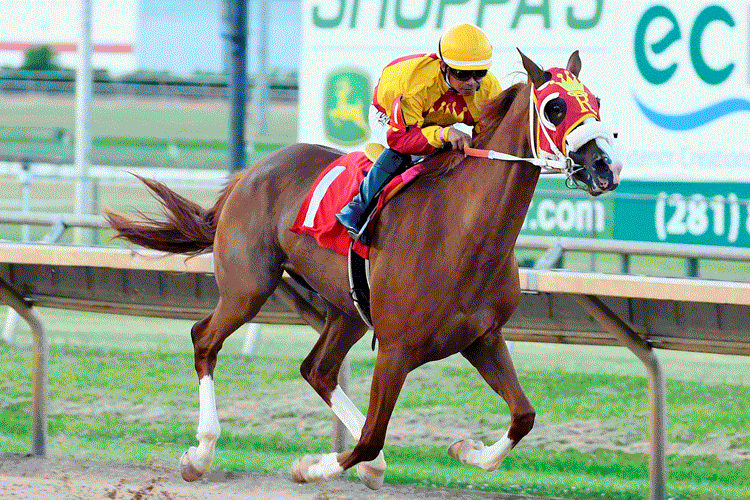 RB Lara ridden by Ernesto Valdez-Jimenez. Photo by Coady Photography.
Trainer Cesar Govea and jockey Ernesto Valdez-Jimenez joined forces to win the Wathba Stallions Cup race at Sam Houston Race Park late July for RoseBrook Farm, with RB Lara delivering the goods with a start to finish performance in the 1200m contest on dirt.
A strong field of 12 lined up for the race, including two former Darley Award winners in Lazur Hess and Uptown Lady Arabella. Furthermore, the group also included a total of seven former Darley Award nominees, in which were present a further five from the 2020 awards scheme.
But trained by Govea and ridden by Valdez-Jimenez, the 4yo Munjiz filly broke well and dictated the pace, holding sway throughout to win with two and three-quarters of a length to spare. Trainer Thunder Johnson saddled the next two in as Highh Maintenance, under Celso Rodriguez, finished a further two and three-quarter lengths ahead of stable companion Lapcos Bonus, the ride of Francisco Giles. RB Lara won with a time of 1:20.91.
The Wathba Stallions Cup Series is held as part of the HH Sheikh Mansoor bin Zayed Al Nahyan Festival, which aims to promote Purebred Arabian racing around the world. The festival is conducted under the directives of HH Sheikh Mansoor bin Zayed Al Nahyan, the Deputy Prime Minister of the UAE and Minister of Presidential Affairs, with the aim of encouraging owners and breeders to breed and acquire Arabian horses around the world.
RB Lara is bred by Diane Waldron and Lara Sawaya, the executive director of the Sheikh Mansoor Festival, with the filly named after the latter.
Source: Al Adiyat Magazine