Samlla wins Al Rayyan Cup and Soko wins Doha Cup, races sponsored by QREC at Deauville

In prescience of His Excellency Sheikh Ali Bin Jassim Al Thani, Ambassador of Qatar to France, Deauville racecourse was the scene of action for two top races for Purebred Arabian races sponsored by the Qatar Racing & Equestrian Club (QREC) on Tuesday, 10 August. In the colours of Her Excellency Sheikha Reem Bint Mohammed bin Khalifa Al Thani, Samlla (Assy x Djakera des Forges) stormed to a new Group 1 Purebred Arabian victory when lifting the Al Rayyan Cup (Prix Kesberoy) (Gr.1 PA) over 2,000m. He was ridden by Olivier Peslier and is trained by François Rohaut. With this top victory under his belt, Samlla now boasts 3 wins from 3 runs, and two Group PA wins following his win in the Qatar Coupe de France des Chevaux Arabes (Gr.2 PA) at Chantilly in June. He solidified his place as the leader of his generation of Purebred Arabian racehorses in Europe.
In the following race, there was a big surprise when the outsider Soko (NIESHAN X SAKA), under a brilliant ride from Olivier Peslier, who had a brilliant day at Deauville, took the Doha Cup (Prix Manganate) (Gr.1 PA), over 2,000m for 4-year-old and over Purebred Arabians.
His Excellency Sheikh Ali Bin Jassim Al Thani, Ambassador of Qatar to France presented the trophies to the winners after each of the two prestigious races.
SAMLLA UNBEATEN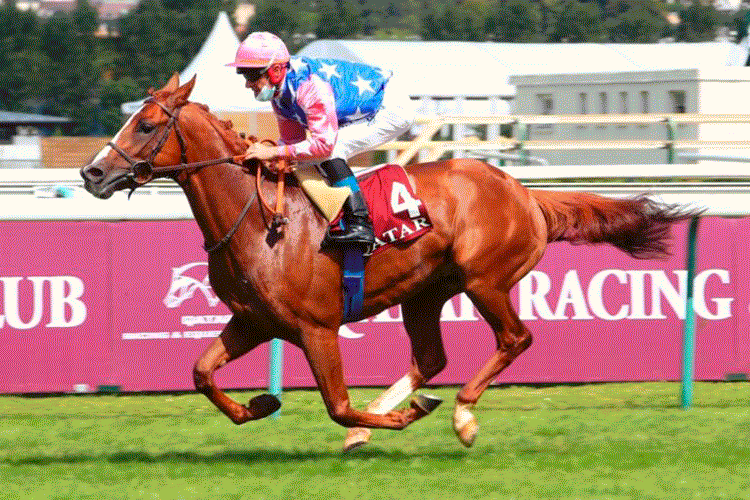 Samlla ridden by Olivier Peslier. Photo credits: Scoopdyga
The 3-year-old Purebred Arabian Samlla (Assy x Djakera Des Forges) remains unbeaten after a comfortable success in Al Rayyan Cup (Gr.1 PA). Trained by Francois Rohaut,Samlla, who was ridden by Olivier Peslier added to a debut win at Toulouse and his Group 2 PA Qatar Coupe De France Des Chevaux Arabes victory, and remains unbeaten after three starts.
With only five runners following the scratching of Sahab (AF Albahar) a steady early pace was set bySamlla's stablemate Hakeem (Sir Bani Yas) through the first half of the 2,000m contest.Samlla sat in third position about three lengths off the leader and travelled well for Peslier. On turning for home Penny (Nieshan) challenged on Hakeem's outside, forcing a change in tempo. Once straightened up for home,Samlla was asked to close on the two leaders and closed the gap easily inside the final 200m. Pushed out under only a hands and heels ride, Samlla galloped smoothly to the line to take a one length victory over Hakeem, who stayed on well for second. Penny faded inside the final 100m and finished a further two lengths back in third.
Responsible for the first two home in this prestigious race, trainer Francois Rohaut said:
"I have about ten three-year-old Purebred Arabians at home and they look like a very good bunch, with four of them capable of running in the top races. The two that ran today will be joined by two others and they will all run in the Group 1 PA at Saint Cloud [ED: the Qatar Arabian Trophy des Poulains]. Normally it is Thomas Fourcy who is in front, but our 2021 team, especially the colts, look Olympic standard! I am very happy for my clients. Hakeem and Samlla are two very good colts. Samlla is progressing with racing, like a lot of my young horses. His last piece of work showed that he was a level above and we still don't know how much. I hope he can continue to progress. We are able to travel with him too, as the programme allows us too."
Bred by His Highness Sheikh Mohammed bin Khalifa Al Thani's Al Shahania Stud, Samlla is by their multiple Group One winner Assy (Amer).
SOKO SOLO IN DOHA CUP ROMP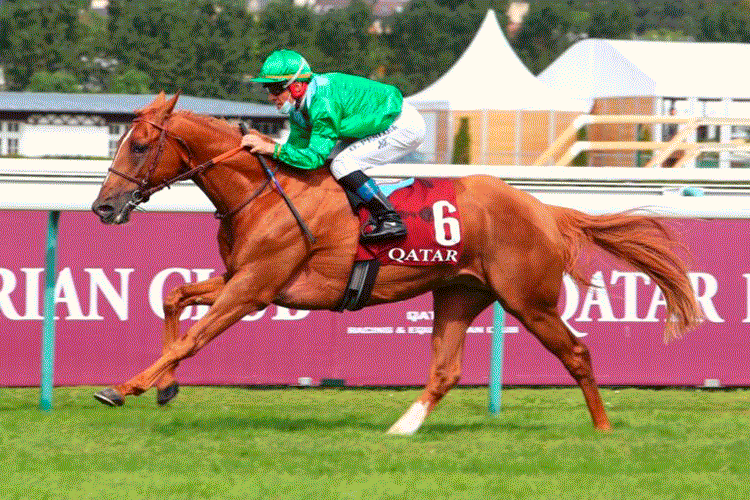 Soko ridden by Olivier Peslier. Photo credits: Scoopdyga
The four-year-old pure-bred Arabian Soko (Nieshan x Saka) displayed a fine front running success in taking the Doha Cup (Group One PA). Trained by Olivier Trigodet, the four-year-old improved on his third placed performance in the Qatar Derby Des Pure-Sang Arabes de 4ans (Group One) at Chantilly in June, to take a first Group One success under jockey Olivier Peslier.
Driven straight into the lead by Peslier, Soko set consistent fractions and held a two length lead throughout the first half of the 2,000m contest. The eventual runner-up Mon'nia (Amer) tracked the leader while the remainders of the field were happy to take an early lead. Turning for home, it was clear that Soko was travelling strongly and had most of his rivals under pressure. 400m from home Peslier asked Soko to extend and the colt galloped clear of the chasing pack. With an ever-widening advantage on passing the 200m pole, Soko continued to move well and galloped to a five and a half-length success. Mon'nia held on for second from the strongly finishing Hoggar De L'Ardus (Mister Ginoux) who finished third.
Speaking after Soko's easy success, winning trainer Olivier Trigodet said:
"I have always considered him to be a Group One horse. Even with the opposition I was quite confident today, thanks to the softer conditions. He is a colt with a big action, a big frame and lots of ability. I was happy out see him out in front. He is quite like his sire in both looks and temperament. At home he is easy but at the races he can be a bit keen. He ran very well at Chantilly when he finished third. We could try the four-year-old's race with him at Doncaster; he has the profile for those kind of races. He is tough and is capable of setting a strong pace in front. Today he has confirmed everything we have thought of him; it is great for his breeder Mr. Jardel too."
Bred by Mr. L Jardel, Soko is by four-time Group One winner Nieshan (Akbar).
It is worth mentioning that the two annual Gr1 PA events are held as part of the QREC's vision to promote Qatar as a leader in the pure Arabian breed and enhance the standing of Arabian racing by holding such events at the most prestigious racecourses in Europe and the world.
Source: Qatar Racing & Equestrian Club