Samonlau 'OA' better than Wasma Al Khalediah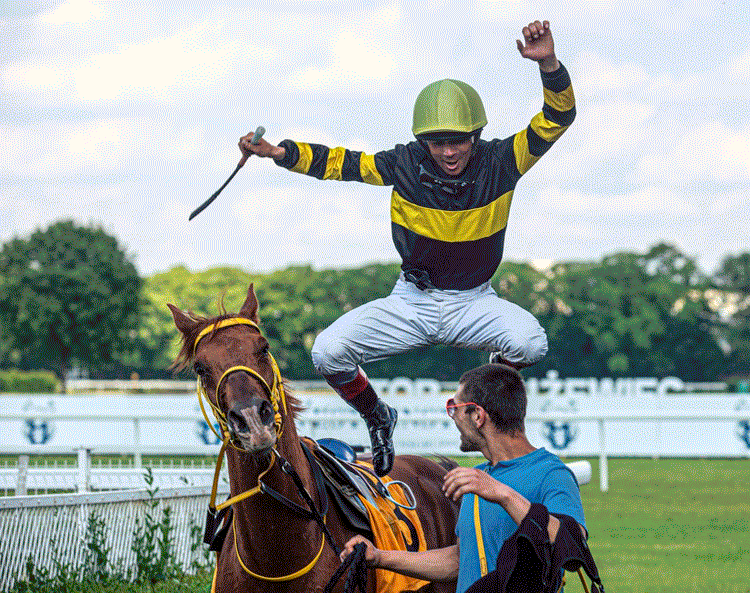 Samonlau 'OA' and the jockey Victor Popov after winning the Kurozwęki Race, photo by Tor Wyścigów Konnych Służewiec
The prediction of trainer Cornelia Fraisl, who is very successful this season, that the four-year-old Dutch-bred colt Samonlau 'OA' (Al Mamun Monlau – Sadjella by Djebbel) will be more suited to the slightly soft track.
In the race for the Kurozwęki St. (cat. B, 2600), in which only four horses appeared after the withdrawal of Amwaj Al Khalediah, he was predicted third after French Wasma Al Khalediah (Jalnar Al Khalidiah – Chinook de Ghazal by Dormane) and the Polish-bred Purhiba ( Murhib – Polina by Balaton).
First, the favorite led the race slowly with Konrad Mazur and gradually increased the pace. However, he did not manage to develop a clear advantage. During a hellishly fast ending (31.5), the four-year-old colt defeated the two year older mare by 1.25 lengths.
The third was Purhi, 3.75 lengths behind the winner and the fourth (last) Alnnajm (Mared Al Sahra – Arwima by Wachlarz) lost by 9.75 lengths.
The time of the race on a slightly soft track (3.1) was average: 3'07.2 " (10.1-39.6-35.2-36.3-34.5-31, 5) worse by 10 seconds than the track record of 2:56.3, set by Muqatil Al Khalediah in the Europa Cup 10 years ago.