Saudi Arabia Promoted to a Part II Racing Country by The International Federation of Horseracing Authorities

The Saudi Cup, the world's most valuable race, achieves Group 1 status after only two renewals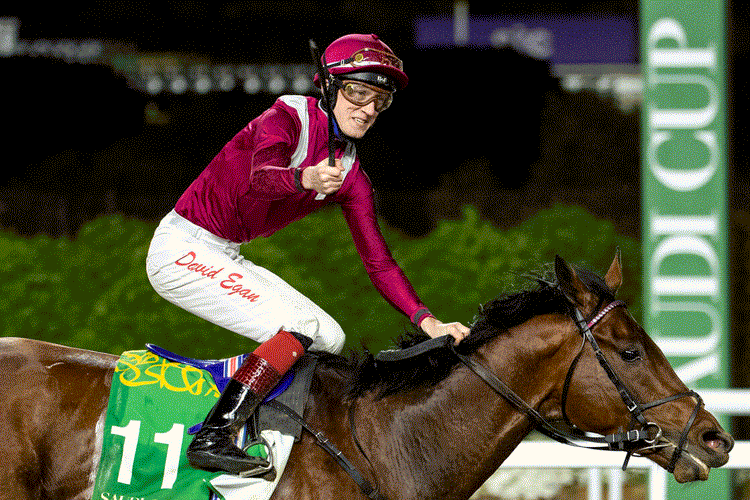 David Egan celebrates aboard Mishriff after winning the 2021 Saudi Cup
for John Gosden and Prince AA Faisal. Photo: Jockey Club of Saudi Arabia // Neville Hopwood
Saudi Arabia has been promoted from a Part III to Part II racing country in the International Cataloguing Standards (ICS) Book by the International Grading and Race Planning Advisory Committee (IRPAC).
At the International Federation of Horseracing Authorities' (IFHA) Executive Council meeting in Paris on Monday 4 October, it was also agreed that six races in Saudi Arabia would be promoted to International Group Status in Part 1 (under the Other Races section).
The Saudi Cup, won by Mishriff in 2021, becomes a Group 1 in only its third year, highlighting the prestige in which the race is held internationally, while all five races on The Saudi Cup undercard achieve Group 3 status. Races from Saudi Arabia will be presented as follows in the ICS book:
In Part I under Other Races:
Saudi Cup G1
Neom Turf Cup G3
Saudi Derby G3
STC 1,351 Turf Sprint G3
Riyadh Dirt Sprint G3
Red Sea Turf G3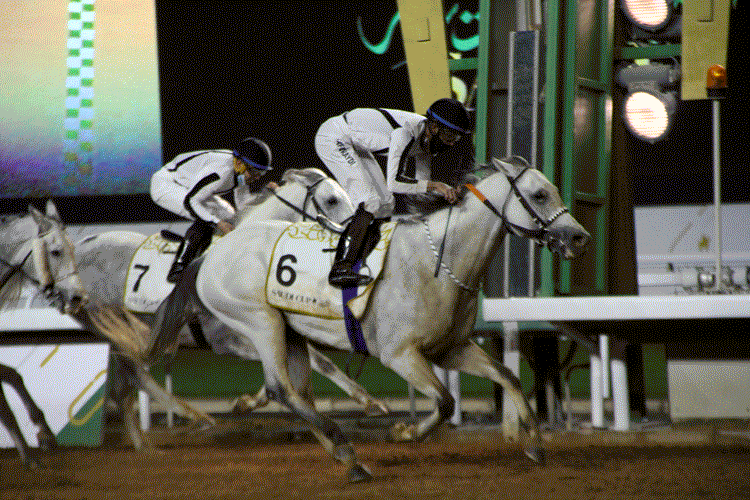 Mubasher Al Khalediah ridden by Adel Alfouraidi winner of Obaiya Arabian Classic- Photo: Cidinha Franzão
The Obaiya Arabian Classic, a contest for Purebred Arabians was upgraded to Listed status before the Saudi Cup 2021 by the International Federation of Arabian Horse Racing.
HRH Prince Bandar Bin Khalid Al Faisal, Chairman of the Jockey Club of Saudi Arabia, highlighted the importance of this step in the history of Saudi Arabian horseracing.

"Saudi Arabia's advancement as a racing nation from Part III on the IFHA list to Part II is a pivotal moment in our racing history and the halfway mark in our ambition to become a Part I racing jurisdiction," he said.

"We know we could not have made this significant advancement without the support of global racing, and we hope we are able to repay this faith in us by continuing to grow our offering internationally while improving our domestic industry.

"This is also the first season that The Saudi Cup will be run as a Group 1 while the undercard races on Saudi Cup day will be run as Group 3 contests with the Obaiya Arabian Classic remaining at Listed status. This exciting news means that The Saudi Cup is Saudi Arabia's first international Group 1 and we are very proud of this major step in our history."
About The Saudi Cup
Organised by the Jockey Club of Saudi Arabia and run at the King Abdulaziz Racetrack in Riyadh, Saudi Arabia, The Saudi Cup is a two-day festival of international racing headlined by the USD$20m Saudi Cup – the world's most valuable race.

Established in 2020 with the third renewal set to be run on Saturday February 26, 2022, The Saudi Cup day card carries a total prize purse of $30.5m and features dirt and turf races for the highest calibre of racehorses in the world.

A full card of racing on the preceding Friday includes an International Jockeys Challenge which sees seven female and seven male jockeys compete as individuals as well as the $500,000 Saudi International Handicap for horses trained in IFHA-registered Part II and III racing countries.

The Saudi Cup is charged with raising awareness of horse racing in the country, encouraging participation among men and women. It also aims to promote Saudi Arabia at international level, acting as a marker for the Kingdom's transformational journey, encouraging tourism and investment.

International Jockeys' Challenge
FRIDAY FEBRUARY 25, 2022
Saudi Cup Day
SATURDAY FEBRUARY 26, 20222
King Abdulaziz Racetrack, Riyadh, Kingdom of Saudi Arabia (KSA)
Source: Jockey Club of Saudi Arabia / Sarah Tregoning