Shadwell Arabian horses sale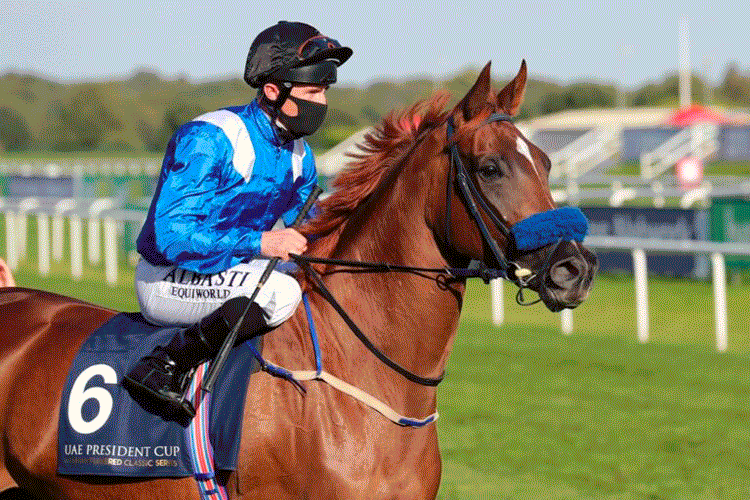 Photo Debbie Burt
His Highness Sheikh Hamdan bin Rashid Al Maktoum was one of the most successful owners and breeders of Arabian racehorses of the last 35 years. His horses, carrying the famous blue and white colours, were familiar in the winners' enclosure throughout Europe, Turkey and the Middle East, but most particularly in Great Britain where he was Leading Owner and Breeder for the last eighteen years.
Horses which led to this success have become household names and include BENGALI D'ALBRET, MADJANI and NO RISK AL MAURY as well as the homebred stallions MURAAQIB, HANDASSA and BARNAMAJ.
This dispersal is a unique opportunity for owners and breeders to acquire horses from some of the most sought-after bloodlines bred by Shadwell over several generations.
The offer consists of three six-year-old race winning mares FARHAA (lot 3), JADAAYIL (Lot 1) and MAZYOONAH (Lot 2), suitable additions to any broodmare herd, as well as LOOLWA (Lot 4) one of the highest rated fillies in the UK; nine lightly raced four-year-olds, including the promising fillies FARASAH (Lot 8) and ALDAANA (Lot 5), ALGHANNY (lot 23), full-brother to Group 1 winner HANDASSA, ALGHADEER (lot 24), from the same damline as champion AL MOURTAJEZ; fourteen three-year-olds, nine are unraced and of those which have run MUNEER (Lot 14) and MUMAYYEZ (Lot 31) are winners, whilst SULTANA (Lot 15) and AL KHALEEJY (Lot 10) have placed and shown great promise.
There are eleven two-year-olds ready for pre-training which include:
– FINJAAN (lot 39), a gelding by MAHABB out of Group winner AGHSAAN
– MADRASSA (lot 35), a colt by NO RISK AL MAURY out of Group winner JAMAHEER
– MAWAAZEEN (lot 19), a filly by GENERAL out of NEIGE AL MAURY from the family which produced LADY PRINCESS
– MODHISHAH (lot 20), a filly by AF ALBAHAR out of ZAAQYA, a daughter of outstanding SOPHIE DU LOUP
– SOMAYYA (lot 21), a filly by MUNJIZ out of Group 1 winner OUASSILA THABET
– TAQDEER (lot 22), a filly by AF AL BURAQ out of MAIZIANE, dam of winners and black type performers RAFEEF and FARHAA
The sale will take place on the 28th October 2021, at 7pm, at Meydan Quarantine.
Viewing of horses: Meydan Quarantine (NOFA stables) (subject to change)
Tuesday 26th October 2021: 7:30am – 9:00am
Tuesday 26th October 2021: 4:00pm – 6:00pm
Wednesday 27th October 2021: 7:30am – 9:00am
Wednesday 27th October 2021: 4:00pm – 6:00pm
For further information, please contact:
John Hyde (Trainer)
Tel: +971 4 3439392
Mob: +971 50 4550321
Email: admin@dubaistable.ae

Taylor Wilson (ERA)
Tel: +971 4 327 0077
Mob: +971 56 997 5815
Email: taylor.wilson@emiratesracing.com
Buyer Registrations:
Satish Nair (ERA)
Tel: +971 4 327 0077
Fax: +971 4 327 8517
Email: satish.nair@dubairacingclub.com

Arabic Enquiries:
Issam El Din Atta (ERA)
Tel: +971 4 327 0077
Mob: +971 50 551 6128
Email: issam.hamad@emiratesracing.com