Somoud stars in Mullen's Abu Dhabi treble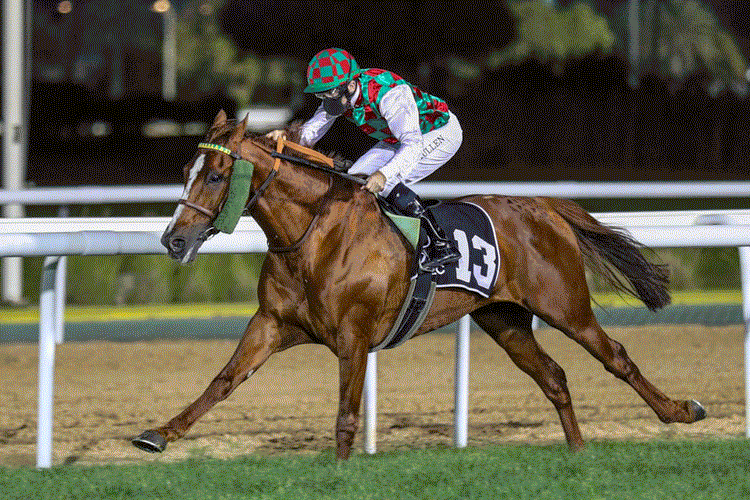 Somoud ridden by Richard Mullen
One of the major fixtures of the Abu Dhabi season, Sunday's fixture was officially highlighted by the 2200m Group 1 Emirates Championship, a Purebred Arabian feature in which class prevailed with last year's winner Somoud (Munjiz x Wadya by Akbar) proving a class apart as he defended his crown effortlessly.
In a capacity field of 14, Richard Mullen was able to settle him about halfway back, but racing alone on the rail before the pair cruised into contention leaving the back straight. Once Mullen pressed go, his mount shot to the front and the race was over as a contest, the pair repeating their HH The President Cup victory of a month ago in totally dominant fashion.
De Roualle said: "Obviously I am delighted and that was really impressive this evening, so we can look forward to another crack at The Jewel Crown next season."
Mullen, completing a treble on the card, said: "He has had a pretty busy season, but Jean and his team keep turning him out. His only defeat was my fault, in The Jewel Crown, which I know Jean and the team want to remedy next season. Again, credit to Jean because the Kahayla Classic was an option on dirt at Meydan next week, but the trainer was adamant this was the right race. As he almost always is, he was proved right."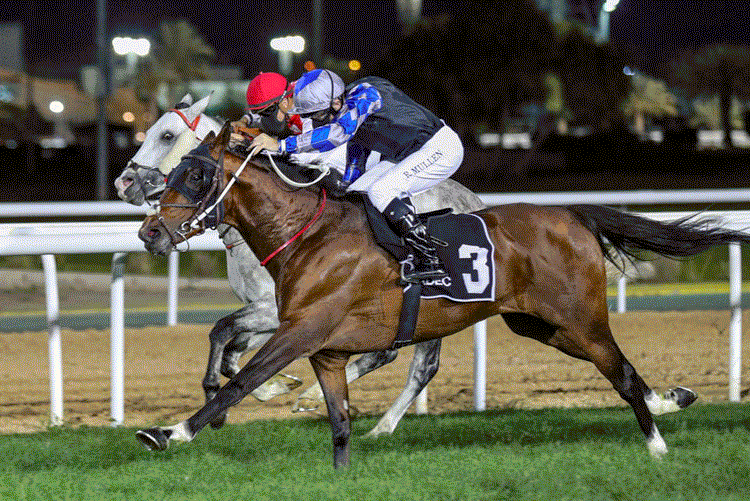 Dergham Athbah ridden by Richard Mullen
A Prestige contest for the 4-year-old Classic generation, again over 2200m, the UAE Arabian Derby was landed in determined fashion by Dergham Athbah (AF Albahar x Mandragore Al Maury by Dormane), completing a double on the card for Richard Mullen. Saddled by Mohamed Daggash for Athbah Racing and Stud, the homebred colt was registering a second career success having shed his maiden tag on his penultimate appearance, a maiden over 1800m at Al Ain.
Having initially settled in midfield, Mullen closed rapidly as the runners prepared to enter the short straight, at which point Mujeeb sneaked through on the rail and looked the likely winner. However, Mullen's mount was not to be denied, grabbing the lead and prize in the final 25m. 
Mullen said: "I had a very willing partner who has done well from a bad draw out wide, so I had to race a bit further back than I wanted. The pace was slow, so it turned into a sprint in the end and I did learn last time that this horse stays well, so I was happy to commit a long way out. Then, as I say, he has really battled for me."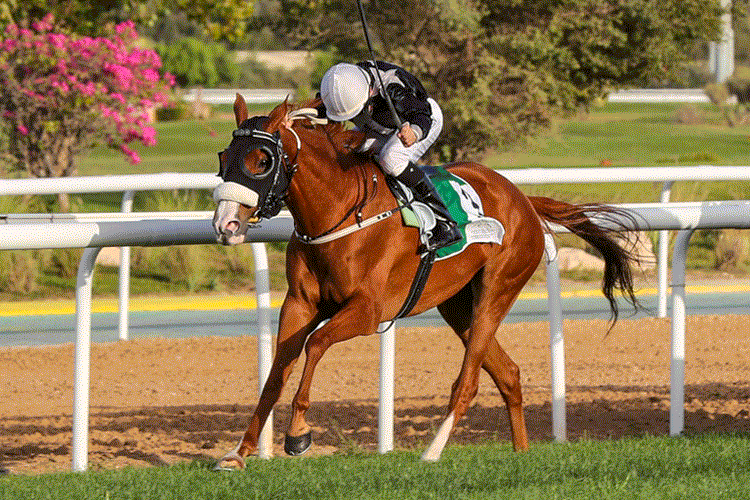 Noof KB ridden by Richard Mullen
Ernst Oertel saddled a quartet of runners Khalid Khalifa Al Nabooda in the 1400m handicap Wathba Stallions Cup for Private Owners Only and they promptly occupied the first four places home, Mullen and Noof KB (AF Albahar x Karimah by Frere Des Loups) desperately clinging on to thwart the challenge of AF Motaghatres, delivered in the dying strides by Antonio Fresu.
The verdict went to Mullen's mount, the 8-year-old mare winning for the sixth time with AF Motaghatres followed home by AF Mohanak, also finishing, with AF Ashras completing the placings for owner and trainer.
Mullen said: "She deserved to win again because she always battles hard and tries her best, but to be honest, on the line I was worried we had been caught. Luckily our head was down when it mattered most."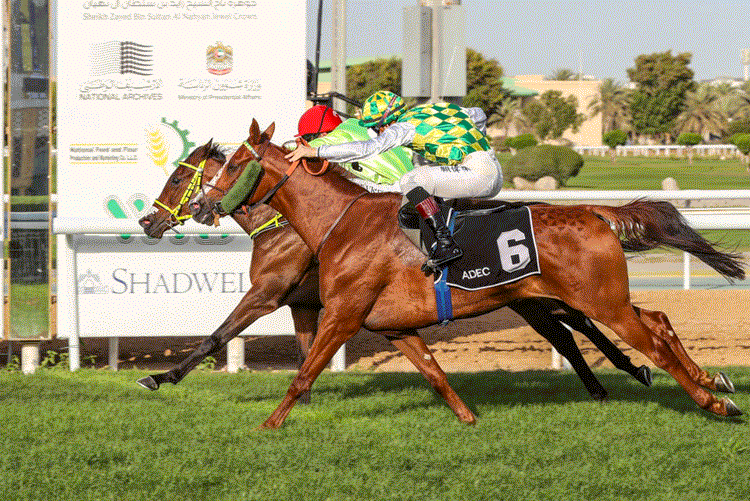 Rawaat Al Reef ridden by Adrie de Vries
The opening 1600m maiden for horses foaled in the UAE was won by Rawaat Al Reef (Valiant Boy x Fascinnator by Thoroughbred), initially first reserve, but taking full advantage of opportunity when it arose, Adrie de Vries riding for Al Ajban Stables and Abdallah Al Hammadi. Settled in about sixth of a group of nine who had the race between themselves from a long way out, De Vries' mount quickened to the front passing the 200m pole and just about had enough left to hold the late lunge of Raali. In doing so, the 4-year-old filly opened her account at the sixth attempt, her previous five appearances including a pair of seconds and twice finishing third. 
De Vries said: "She took me there easily, but once in front, she started looking about, so is clearly still learning and you would hope, has plenty of potential."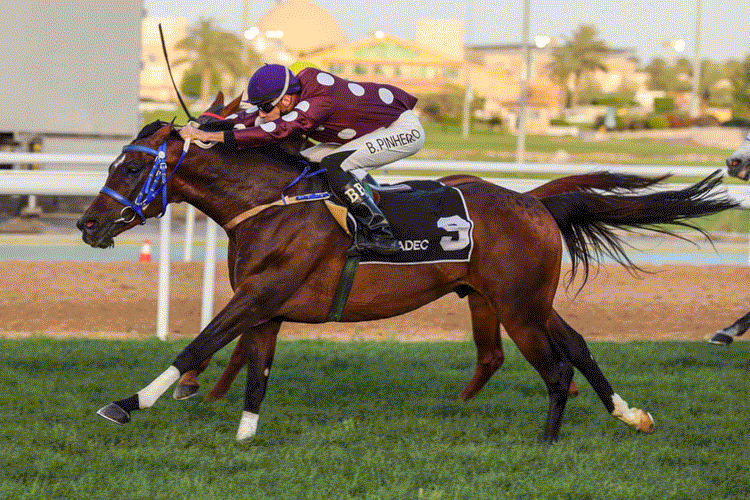 AF Seven Skies ridden by Bernardo Pinheiro
Close finishes continued as a theme in a 1200m handicap in which Alaber appeared about to lose his maiden tag when hitting the front inside the final 150m only to be denied close home by AF Seven Skies (Murhib x Khute by Djouras Tu) who seemed to dwarf the runner-up as he edged past.
Partnered by Bernardo Pinheiro for trainer Qaiss Aboud and owner Humaid Amhi Al Mansouri, the 7-year-old was doubling his tally, adding this victory to a 1600m Abu Dhabi success, when also ridden by the Brazilian, in early January.
Pinheiro said: "This was the only suitable race for him, over a trip probably too short, but they went quick which has really helped us."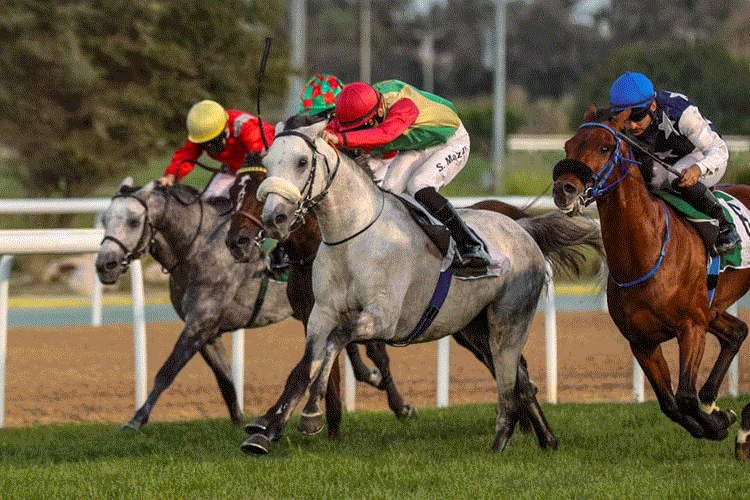 Jabalini ridden by Szczepan Mazur
Jabalini (Nizam x Josika by Darike) and Szczepan Mazur were then able to defy top weight in a 2200m handicap, the pair clinging on grimly with the line winning post appearing just as time to maintain a diminishing advantage over Jawal Al Reef, finishing fast under Fernando Jara.
Homebred by The Royal Cavalry of Oman, the 6-year-old entire was registering consecutive course and distance handicap victories having landed a similar event, more comfortably, five weeks ago.
It was another winner for trainer Ibrahim Al Hadhrami, moving past last season's then personal record tally of 17, so now enjoying his best ever campaign.
Mazur said: "This is a very nice horse and I have been aboard him each time he has won. In fact, I have only not won on him once in five races together, so we seem to have a good relationship!"
Source: Emirates Racing Authority