Spanish ace takes aim at new
$500,000 Saudi Arabia prize
Oriental out to prove Saudi Cup Credentials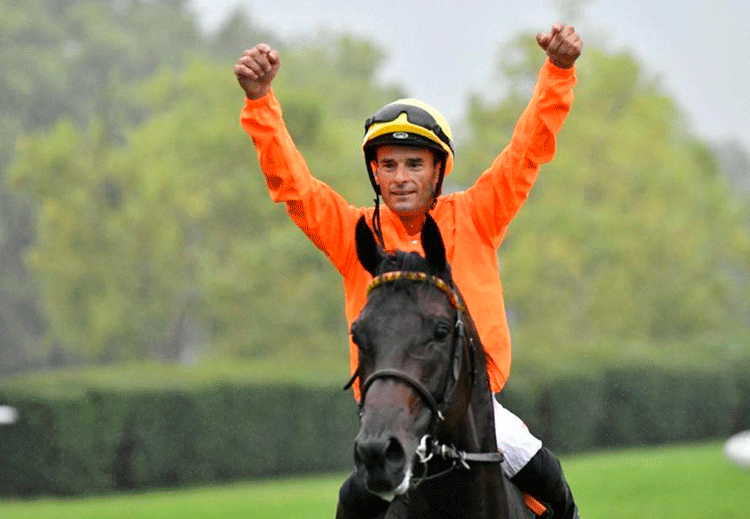 Jockey Borja Fayos celebrates winning the Gran Premio Gobierno Vasco at San Sebastian Racecourse in Spain with Oriental on 18 August 2019. Credit: Dabid Argindar (Argindar.com)
Spanish trainer, Alvaro Soto is aiming to fly the flag for his country with his star horse, Oriental, in the $500,000 Saudi International Handicap.
The 2100m race, a new addition to The Saudi Cup meeting, is open to horses trained in countries not included in the International Federation of Horseracing Authorities' Part One nations.
Oriental was horse of the year in Spain in 2019 having joined Soto from his old boss Carlos Laffon-Parias, a Spaniard based in Chantilly, France. He had been used as a lead horse for the top-class Recoletos, who won two French Group One races before retiring to stud at the end of 2018.
Having won two of Spain's biggest mile (1600m) races in 2019 – the Gran Premio Gobierno Vasco and Gran Premio de la Hispanidad – as well as one of Morocco's top prizes, the 1m4f (2400m) Grand Prix de la Sorec, Oriental was hampered by breathing issues earlier this year.
Madrid-based Soto is now confident he has solved those problems and he will give the six-year-old a run on December 30 before hopefully preparing him for the Saudi International Handicap on February 19.
Soto said: "He's in great form. He could have run two weeks ago but I was waiting for this race. I think it's going to be a very easy race because it's on the all-weather and all-weather races in Spain are not strong. In the morning Oriental is doing things I saw last year – I didn't see them at the beginning of this year. He's been galloping with a filly who won by six lengths last week and he was very easy beside her. I'm full of hope."
Soto might only be 29-years-old but he has packed a lot into life so far with little room for anything but racing. His father owned horses in Seville, where Soto grew up, and he started riding out racehorses in his early teens having started off with showjumpers. After riding 15 winners as an amateur jockey he turned to training in Madrid three years ago and he now has 22 horses in his yard.
Soto said: "My whole life has been racing. When I was at school I was always riding. I used to go to the racetrack in the morning and then on to school at 9am. It was the same when I was at university studying business. I had a very good relationship with Carlos Laffon-Parias as he is from Seville also. Our families are good friends so every summer I went to him in Chantilly."
The link with Laffon-Parias has certainly been a fruitful one as it led to him snapping up Japanese-bred Oriental after he had won a Listed race at Craon, France in September 2018.
He explained: "When I came back to Spain I met M'Hammed Karimine, a Moroccan owner who was looking for a good horse. I saw Oriental work and said 'you have to buy this horse – you are going to have a great time with him'.
"I knew he was a very good horse and we only had to change his mind as he had been the lead horse for Recoletos. I think we've done it. He was expensive but he won two of the best mile (1600m) races in Spain last year and he was runner-up behind a good French horse in the other. He won in Casablanca, Morocco, over 1m4f (2400m). That's why I think he can be very useful in Saudi Arabia.
"He is very competitive from a mile up to 1m4f. The race is very good for him. He's also a good traveller. To go to Casablanca last year, he had to travel for 18 hours and his behaviour was amazing."
Travelling horses to the Middle East is nothing new to Soto. He took runners to Qatar and Dubai when pupil assistant trainer to Marco Botti in Newmarket, England.
Having also spent time as assistant to Laffon-Parias, he was tempted back to Spain to start training three years ago. He is fiercely ambitious and sees the Saudi International Handicap as a chance to show what he can do on racing's world stage.
Soto added: "We would love it if we were invited to Saudi Arabia for the International Handicap. This is the type of opportunity I'm looking for - it is very important for my career. Everyone will be at The Saudi Cup meeting and everyone will be watching. It's very important to go to these type of races to meet people.
"I'm always thinking big. If you don't think big you don't go anywhere. I started training to be involved in these sort of races. It's why I decided to make my life about racing. This is what makes me get up at 5am every morning – in the cold, on Sundays. I love horses and I love training – I don't like anything else more than racing.
"For me, it would be amazing to go to Saudi Arabia but I wouldn't be going there to make up the numbers, I'd be going because I think Oriental can be very competitive. If we could win, personally for me it would be very important and it's also very important for Spanish racing. In Spain we only have 600 horses – that's like two yards in Newmarket!"
Source: Ben Cleminson / Sarah Tregoning
About The Saudi Cup

Organised by the Jockey Club of Saudi Arabia and run at the King Abdulaziz Racetrack in Riyadh, Saudi Arabia, The Saudi Cup is a two-day festival of international racing headlined by the USD$20m Saudi Cup – the world's most valuable race.
Established in 2020 with the second renewal set to be run on Saturday February 20, 2021, The Saudi Cup day card carries a total prize purse of $30.5m and features dirt and turf races for the highest calibre of racehorses in the world.
A full card of racing on the preceding Friday includes an International Jockeys Challenge which sees seven female and seven male jockeys compete as individuals as well as the $500,000 Saudi International Handicap for horses trained in IFHA-registered Part II and III racing countries.
The Saudi Cup is charged with raising awareness of horse racing in the country, encouraging participation among men and women. It also aims to promote Saudi Arabia at international level, acting as a marker for the Kingdom's transformational journey, encouraging tourism and investment.