Suny du Loup wins the Poland leg of the
Wathba Stallions Cup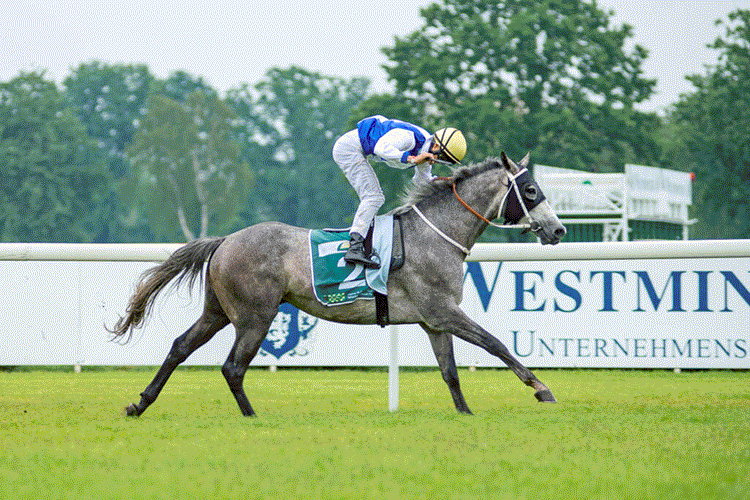 Suny du Loup ridden by Sanzhar Abaev. Photo: Sluzewiec Racecourse
WATCH THE RACE
This year's edition of the Errlis Award will certainly not be forgotten by Sanzhar Abaev. Riding the gray stallion Suny du Loup (AF Albahar - Sirene du Loup by Al Sakbe), the rider, after a fierce fight with the favorite of the race Nash du Douze, ridden by Stefano Mura, achieved an exceptional - 100th victory in his career, thanks to which he was promoted to the highest equestrian category.
The race for 3yo Purebred Arabian horses was contested over a 1600m turf strip at Sluzewiec Racecourse on June 12.
Sanzhar Abaev has been riding at Służewiec since 2018 and has hit the top of Polish riders by storm. Suny du Loup, thanks to the victory, secured its owner not only the prize for the first place, but also an additional 5000 Euro, funded by the Wathba Stallions Cup. The winning stallion's coach is also Michał Borkowski.
The Al Wathba Stallions Cup series is held under the directives of His Highness Sheikh Mansour bin Zayed Al Nahyan, Deputy Prime Minister and Minister of Presidential Affairs, with the aim of encouraging owners and breeders to breed and acquire purebred Arabian horses, which have become a broad base and great interest in Europe. The Sheikh Mansoor bin Zayed Al Nahyan Racing Festival is active around the world with races sponsored in Britain, United States, Europe and South America.