Tayf wins Qatar Arabian World Cup (Group 1 PA)
Tayf's victory, the horse's first in five attempts at the world championship race for Purebred Arabians, further stamps Qatar's authority in Purebred Arabian racing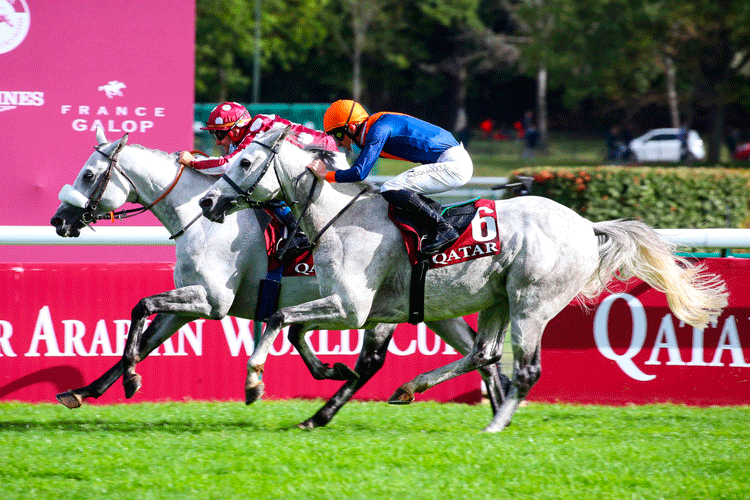 In the presence of HH Sheikh Mohammed Bin Khalifa Al Thani and HE Sheikh Joaan Bin Hamad Al Thani, President of the Qatar Olympic Committee, Qatari-owned horses continued to dazzle on the second day of the Qatar Prix de l'Arc de Triomphe weekend at ParisLongchamp on Sunday, October 4.
HH Sheikh Abdullah Bin Khalifa Al Thani's Tayf (Amer x Djelmila by Manganate) won the Qatar Arabian World Cup (Group 1 PA) in a thrilling fashion
Sunday morning, Tayf was already a double winner of Gr1 PA. His best victory to date remains his battle in the Qatar International Stakes (Gr1 PA) with Ebraz (Amer), in 2017, at Goodwood, under a flood. He started as an underdog in the Qatar Arabian World Cup. But all the elements were aligned in his favor and he offered His Highness Sheikh Abdullah Al Thani a third victory in this event!
The race was moderated by Al Shaqab Racing pacemaker Shalaa (Dahess), then Messi (Dahess)… before Shalaa regained the lead! The latter widened the gap to enter the straight three lengths ahead. Only Messi caught him, then easily passed him as he attacked first, to the point where he seemed able to win with 400m to go. But Tayf, seen in the middle of the peloton, came forward in the straight line. He pounced on Messi, before being attacked by Ebraz himself.
Olivier Peslier, who knows Tayf can stop once in front, waited as long as possible. When he asked him to pronounce his effort, Tayf then easily took the best to win narrowly, but with confidence.
Messi finished second. Ebraz is third at two lengths. Khataab (Amer) finished fourth, ahead of Hayyan (Munjiz), who didn't like the ground. Olivier Peslier said at Equidia: "It's not Magic Peslier, it's mostly Magic Fourcy! Tayf had already won on this ground, I was confident. Last time at Goodwood, he needed a comeback race. Today he lay down nicely. When I saw he was responding to attacks, I thought, "we're not bad."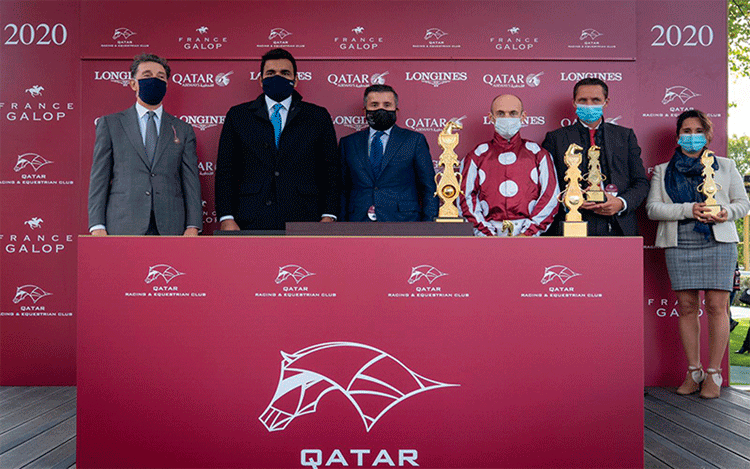 HH Sheikh Mohammed Bin Khalifa Al Thani and HE Sheikh Joaan Bin Hamad Al Thani
Thomas Fourcy's incredible weekend. Royan's coach won his third Qatar Arabian World Cup. On Saturday, he took the first four places in the Qatar Arabian Trophy des Juments (Gr1). On Friday, his residents won the first two places in the Qatar Arabian Trophy des Pouliches but also in the Qatar Arabian Trophy des Poulains (Grs1 PA). That is a total of eight horses on the podium of a Gr1 PA in the space of three days!
Thomas Fourcy said: "It's amazing! I was very confident with Khataab, but he disappoints me a little bit. To his credit, he didn't have an easy journey, finding himself isolated. Winning all four Grs1 in three days is exceptional. Alban de Mieulle trusted me with Tayf. It's a dream year. I never imagined that would happen to me one day."
Thomas Fourcy continues: "It's a dream! This World Cup is for the great Olivier Peslier. And I would like to thank the entire team of HH Sheikh Abdullah Al Thani for their trust. Tayf had the golden race. He made an effort to chase after Messi and then Ebraz pushed him. We know he's capable of performing well but he needs a tailor-made race - which he has today. Messi made us feel hot because he went very far. I'm on a little cloud! Maybe Ebraz was less well now. Beating him was not easy ."
Tayf has spent his entire career with Alban de Mieulle, who did not come to France in 2020. Thomas Fourcy explains: "With the Covid, I got the horse back in June, from Doha. It's amazing to win this race again. The work is finished for me, he is going back to Qatar in a few weeks and is returning to Alban de Mieulle as planned. I don't know what his program will be, but you can assume he will target H.H. The Amir Sword. I hope he wins under the training of Alban de Mieulle. "
Source: QREC/JDG / Photos:Scoopdyga