The second Listed trophy for Rasmy Al Khalediah and a new track record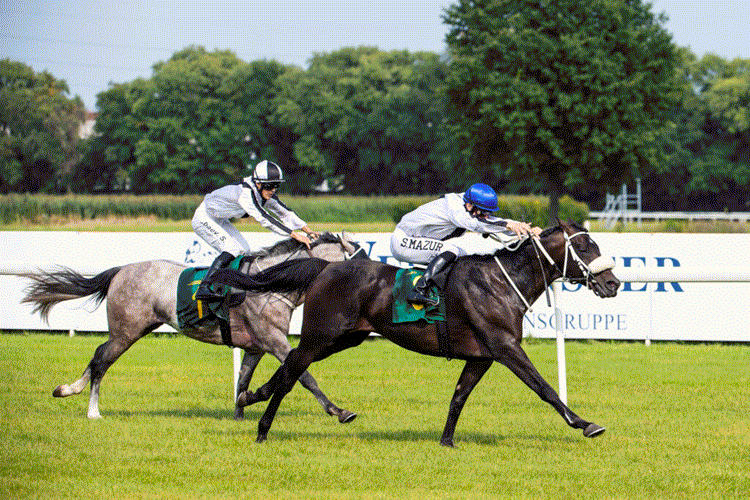 Rasmy Al Khalediah ridden by Szczepan Mazur and Mayar Al Khalediah ridden by Sanzhar Abaev. Photo: Służewiec Racecourse
One thing that speaks for the incredible level of today's races, August 22, at the Służewiec Racecourse is certainly the performance during the Al Khalediah Poland Cup (Listed PA). The race saw five horses at the starting line, including two great stars of Polish Arabian horse racing: Mayar Al Khalediah, fifth in the French Derby, and the triumphant winner of the Listed race in Sweden, Rasmy Al Khalediah.
As expected, Mayar Al Khalediah attacked right from the start and dictated a very strong pace. He ran the first 1,000 m in 1'04" and as soon as he got to the straight he came a few lengths ahead of his most dangerous rival. Soon, however, Szczepan Mazur spurred Rasmy Al Khalediah on and the favorite began to make up for the loss to Mayar. Unexpectedly, however, he was followed by the underrated Frehel de Bozouls. In the last 100 m Mayar lost his strength and was overtaken by Rasmy but he managed to defend himself against a well-performing Frehel de Bozouls.
This fantastic duel between the two horses owned by Polska AKF and ridden by their top riders - Szczepan Mazur and Sanzhar Abaev - was clearly the highlight of today, which also resulted in setting a track record over the distance of 1,600 m at 1'45,9". Thanks to this, Szczepan Mazur improved the result he had achieved five years ago, riding Cakouet de Bozouls, by 0.7 seconds. The victorious Rasmy Al Khalediah was prepared for the race by trainer Janusz Kozłowski.
Source: Hanna Zalewska - Tor Wyścigów Konnych Służewiec