Three exciting new stallions are joining the Shadwell Arabian roster for 2022
MURAAQIB, BARNAMAJ and AF MATHMOON will stand at stud in 2022.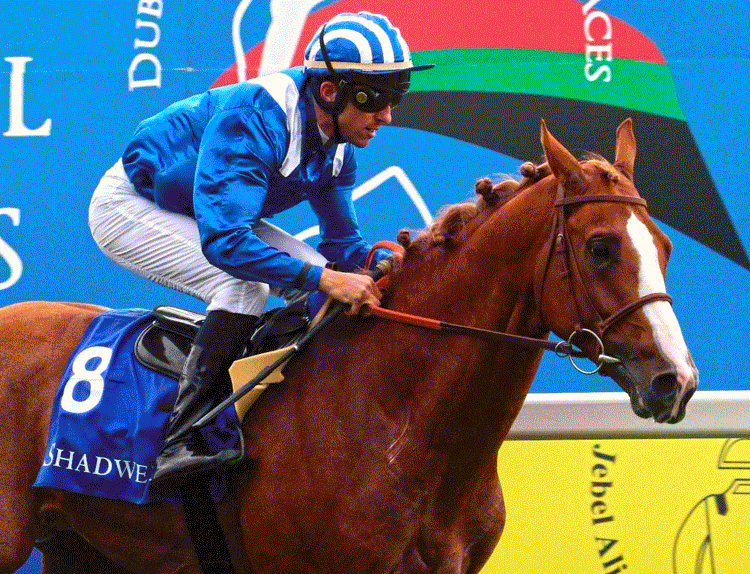 MURAAQIB
MURAAQIB, one of the best Shadwell-bred Arabian racehorses, will be available for breeders in 2022. Born in France in 2012, the son of MUNJIZ joined François Rohaut's stables. He showed a lot of ability and precocity and won on debut at three. Always held in high regards by his trainer, he scored his first success at the highest level in the Al Rayyan Cup in Deauville, by a comfortable margin. He won a second Group 1 race as a three-year-old in the Qatar Total Arabian Trophy des Poulains. He won the Shadwell Dubai International Stakes (Gr.1 PA) at four, during the prestigious Arabian raceway sponsored for more than thirty years by Shadwell. The following year, he added more Group 1 successes to his record. At six years old, he showed his exceptional class in the Qatar International Stakes (Gr.1 PA) at Goodwood.
His half-brother BARNAMAJ will also join Shadwell stallion roster next year. This Group 1 winning son of champion racehorse NO RISK AL MAURY won his first races at three, and was also placed in a Group 2. At four, BARNAMAJ finished second in Group races in France and the UK. At the end of that year, he joined Ali Rashid Al Raihe's stables in the UAE. At five, BARNAMAJ competed in the three rounds of the Al Maktoum Challenge and in the Dubai Kahayla Classic, all extremely competitive Group 1 PA races held at Meydan racecourse within three months. He never finished further than third: he scored the second leg of the Al Maktoum Challenge, finishing second in the first and third, and finished third in the Dubai Kahayla Classic. BARNAMAJ will stand in a National Stud of the SOREC in Morocco.
François Rohaut, who trained both horses, commented: "MURAAQIB is without a doubt the best Arabian racehorse that I have trained. An outstanding physique, the set of mind of a 'warrior' and an unusual turn of foot allowed him to win seven Group 1 races from 1600 m to 2000m. His brother BARNAMAJ has an attractive conformation and showed bravery, speed and strength throughout his career. All qualities that are essential to make a racehorse."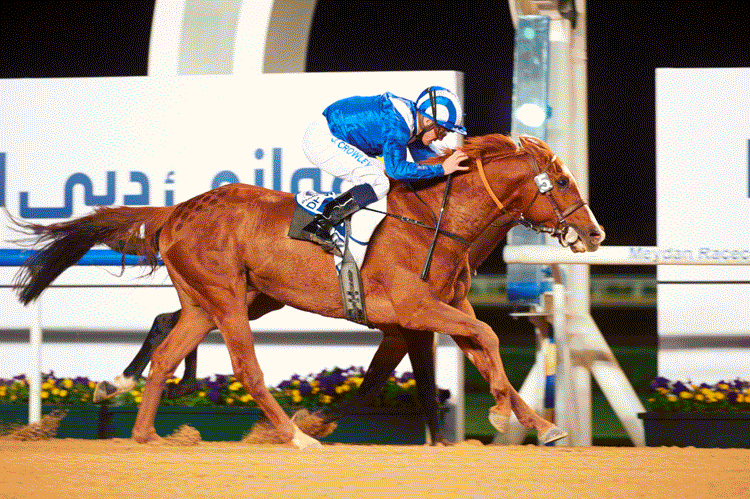 BARNAMAJ
TASHREEFAT is the dam of both stallions and a Shadwell-bred mare by champion racehorse BENGALI D'ALBRET. She raced in the UK and UAE and was placed in several Group races, including a second place in the Liwa Oasis (Gr.1 PA) in Abu Dhabi. She has also produced the Listed winner AJAAYIB (MAHABB), the Group 2 PA placed MARAASEM (AKIM DE DUCOR) and the promising MOSHRIF (DAHESS).
Another addition to the Shadwell Arabian stallion roster in 2022 is multiple Group winner AF MATHMOON, by champion sire AF ALBAHAR. Bred by leading owner and breeder Khalid Khalifa Al Nabooda, AF MATHMOON won nine races, including six Group races such as the Al Maktoum Challenge Round 1 (Gr.1 PA) in Meydan and the Liwa Oasis (Gr.1 PA) in Abu Dhabi. He made the headlines when he became the first winner of the prestigious Dubai Kahayla Classic (Gr.1 PA) bred in the UAE.
Dane O'Neill, who rode him in his historical win, remembers: "AF MATHMOON was a jockey's dream ride, with a great temperament and good turn of foot. He could be ridden to win from any position in a race. His win in the 2016 Dubai Kahayla Classic was a great example. He really toughed it out that day and wouldn't accept defeat."
AF MATHMOON and MURAAQIB will stand in France, at Haras de Thouars. Emmanuel Cessac, founder of the stud, commented: "Haras de Thouars is excited to welcome two Shadwell stallions for the 2022 breeding season. Those two young sires are very promising for the future of the sport. Son of MUNJIZ, grandson of BENGALI D'ALBRET, and exempt of AMER blood, MURAAQIB was a remarkable racehorse. He sired his first foals in 2021: they are out of the ordinary. AF MATHMOON, as the first UAE bred Kahayla Classic winner, will join his sire at Thouars and will be a great addition to our group of stallions.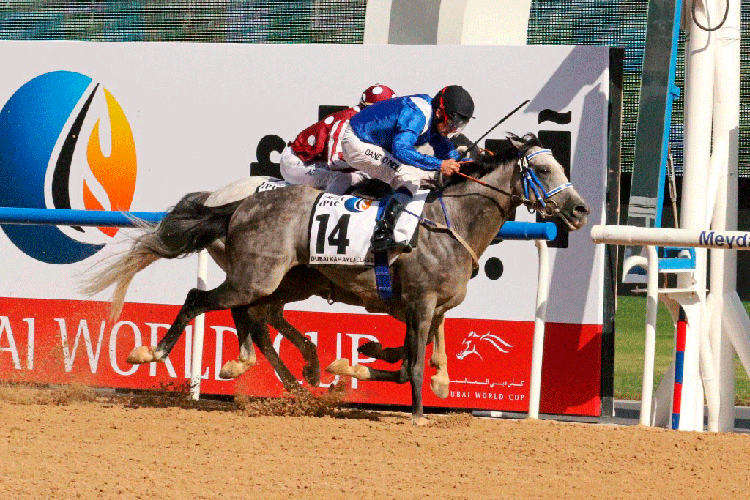 AF MATHMOON
"We are delighted by this new partnership with Shadwell and their trust in our team. The large genetic potential of their stallions will benefit all breeders in the South West of France as well as abroad, with frozen semen. The stallions have settled in well and are now waiting patiently for the beginning of the breeding season."
Deirdre Hyde, Arabian Pedigree Researcher at Shadwell, commented: "Serious breeders should welcome the opportunity to use these exciting young stallions. All three are highly successful representatives of their sires and come from well proven dam lines. MURAAQIB and BARNAMAJ bear the hallmark of Shadwell with their solid largely French pedigrees; they should be of great value for a wide variety of mares, whilst AF MATHMOON represents the best of UAE breeding from Al Awir Farm. We already have two lovely fillies by MURAAQIB and await next season to welcome more foals by him and AF MATHMOON."
The rest of the Shadwell Arabian roster comprises leading sires AF AL BURAQ and NO RISK AL MAURY, who will stand in the UK, as well as HANDASSA, MANARK and SIVIT AL MAURY, who will stand in the South West of France in 2022.
The complete roster, with the nomination fees and conditions, will be available on Shadwell Arabian Stallions website in the next few days.

For more information about Shadwell Arabian Stallions:
      
MURAAQIB – MUNJIZ X TASHREEFAT by BENGALI DALBRET
AF MATHMOON – AF ALBAHAR X TEMPTAYSHUHN by ARAWAK D'AROCO
BARNAMAJ – NO RISK AL MAURY X TASHREEFAT by BENGALI DALBRET
Source: Shadwell Arabian Stallions. Photos: Courtesy of Mr. Al Nabooda, Debbie Burt, Noëlle Derré/CCA and Emirates Racing Authority