Toofan wins on debut in thearabianracehorse.com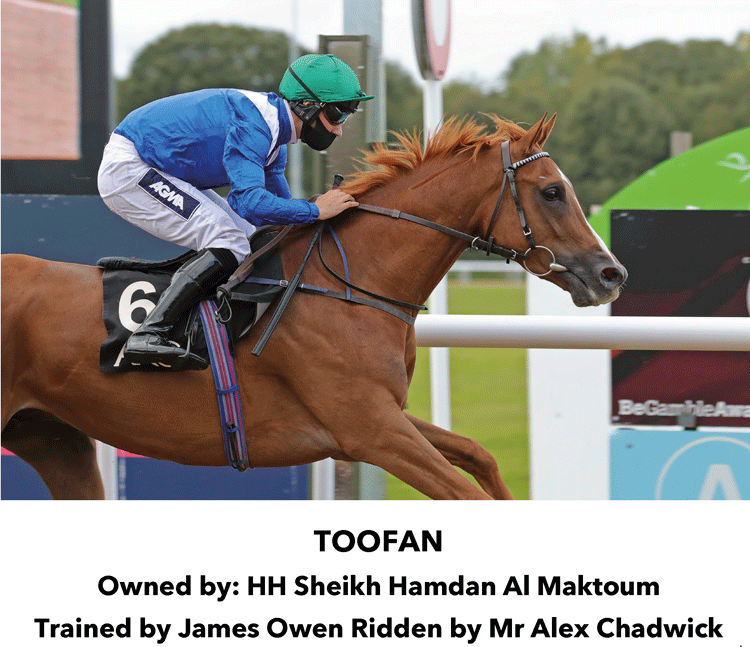 It was a pleasing debut win for Toofan in thearabianracehorse.com maiden stakes at Wolverhampton on September 30, ridden by stable amateur Alex Chadwick for James Owen and ARO Patron HH Sheikh Hamdan Al Maktoum. The four-year-old gelding put in a very polished performance on his first outing to win from stablemate Wanaasa and the Jessica Quinlan trained Toufan Du Croate.
Owen commented: "We've taken our time with Toofan, as he's been in training with me for a year now, but he's a big horse.  In his last piece of work, it looked like it was all coming together – he's starting to improve quickly, though I thought greenness would catch him out today. Obviously Wanaasa was my first choice, but she ran well in defeat, she's learnt a lot today and there will be bigger and better things for her, maybe over a bit shorter.
"Toofan's a nice horse" continued Owen. "I hope he keeps going forward in this manner, we certainly won't rush him. It's also great for Alex to win on him, as he does a lot of work with the young horses at home, he's an integral part of the team at Green Ridge."
This was a first win of the season for Chadwick, the 2019 ARO champion amateur jockey, who said:
"I came into the race quietly confident, as I ride Toofan every day. The last couple of weeks, the penny's dropped with him. That was a very professional performance for a debutant, when we got to the front, I thought he might wander around a bit, but he kept on strongly and I had plenty left at the line.
"He does everything right at home, but you can never be sure they'll do that when you get to the track. It's also great to get a win on the board with a horse that I know so well and I'd like to thank James and His Highness for the opportunity to ride him."
Arabian Racehorse magazine editor Debbie Burt, who also acts as media executive and official photographer for the Arabian Racing Organisation commented: "It's great to be able to support Arabian racing this season when all of racing has been so badly affected by the Covid situation. Even though it may only be a small prize fund, I know it means a lot to everyone taking part. It's also great to see so many runners with a wide variety of owners from different countries and so many young unexposed horses, which are so import for our sport's future.
"I am lucky to be able visit a number of our trainers pre-season for the magazine preview, to see as many of these young horses as I can and Toofan was certainly a stand out individual. I'm so glad he has rewarded the team's patience with a win, first time out."
Source: Arabian Racing Organisation (ARO). Photo: Debbie Burt