UAE Champion Owner Al Nabooda's AF Al Moreeb wins the only Arabian race at Jebel Ali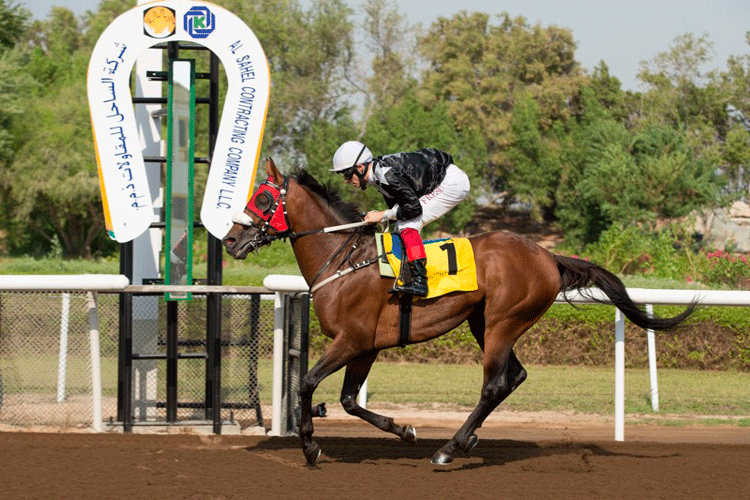 Italian jockey Antonio Fresu had been forced to miss the first fortnight of the season after a positive Covid-19 test, but wasted no time opening his account for the season, landing the opening 1400m handicap for Purebred Arabians foaled in the UAE on November 13. He combined with Champion Owner Khalid Khalifa Al Nabooda whose main trainer, Ernst Oertel, saddled four of the 13 runners, including winner AF Al Moreeb.
Like so many of the Al Nabooda horses, a homebred, the 5-year-old entire was doubling his career tally, his previous taste of victory having been achieved in a 1600m maiden on the Abu Dhabi turf in March 2019. This was a tenth racecourse appearance, third on dirt, for the winner who raced in about fifth before asked to challenge entering the final 450m, snatching the initiative 200m later and never looking in danger thereafter.
Oertel said: "He is a very nice horse who was just too high in the handicap last season, but has now come down in the weights which has helped him win again."
Fresu added: "I lost two weeks of the season, but at least it was at the beginning of the campaign and obviously it is nice to have a winner on my comeback ride."
UAE Champion Owner Khalid Khalifa Al Nabooda was also present during the online press conference and praised the efforts of HH Sheikh Hamdan bin Rashid Al Maktoum and HH Sheikh Rashid bin Hamdan in promoting racing of local breds. "Shadwell are doing a lot to promote Purebred Arabian racing around the world and in the UAE as well there is a lot of work being done to preserve the heritage of the breed and ensure there is a lot of racing for local connections," said Al Naboodah, who is well represented in the only Purebred Arabian contest on the card which is a 1400m handicap.
"There has been a lot of support for local breds from Sheikh Hamdan bin Rashid and Sheikh Rashid bin Hamdan and as you can see this season we get five races for UAE breds at Jebel Ali. "We will try our best to increase our participation in the races for local breeds and more than 14 and 15 lining up you can tell that there is a lot of demand for these races. "With the support of His Highness we will try to increase the numbers of races through the right channels at different racetracks with the help of the ERA. "We are happy to be racing at Jebel Ali this weekend and we would like to extend our thanks to organisers and race sponsors for coming forward and wholeheartedly supporting our sport."
Source and Photo: Emirates Racing Authority