Umm Bab shines in the opening race
meet at Al Uqda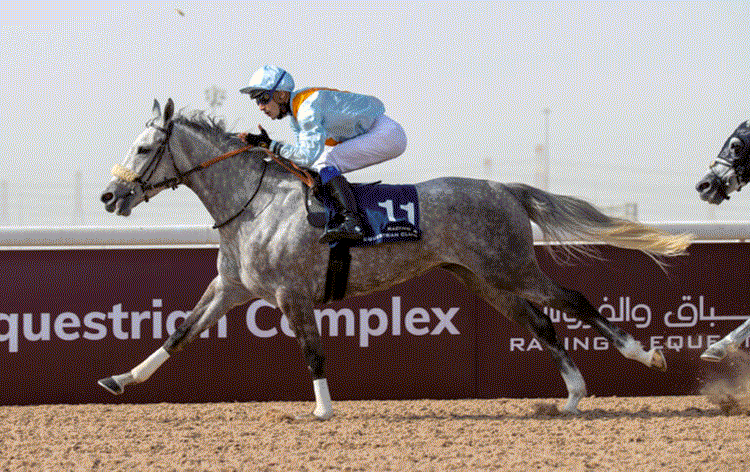 Umm Bab ridden by Carlos Henrique
Noora Racing Limited's Umm Bab (AF AlBahar x Djelfa CS) made history winning the first race ever at the new Al Uqda Equestrian Complex on January 30, herself building on the promise she had shown on her debut in November at Al Rayyan Park to shed her maiden status in comfortable fashion.
Helmed by Carlos Henrique, the Alban Elie De Mieulle trained filly tracked early leaders in the 1300m Purebred Arabian Maiden Plate before Henrique got his mount to up the pace. As the field jostled for advantage on the home straight, Umm Bab managed to take an advantage 100m out and then went past the post one-and-a-half lengths in front of Michael Forest ridden Starlit D'Ibos (General x Starbella D'Ibos).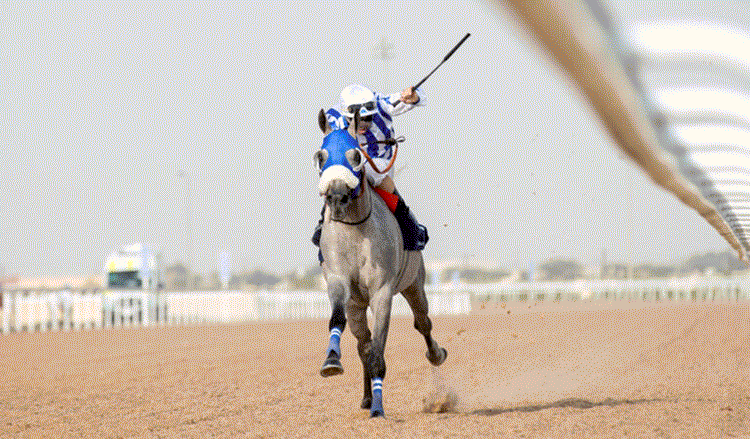 Saad ridden by Francois Herholdt
H.E. Sheikha Iman Bint Mohammed Bin Khalifa Al Thani's Saad (Munjiz x Massroura) made a handsome debut at Al Uqda's dirt track on Saturday. Trained by Julian Colin Smart, the 4yo had Francois Herholdt in the saddle in the 2000m Local Purebred Arabian Maiden Plate.
The grey colt went astray going wide coming off the final bend after tracking early leader Al Hoot for the bulk of the race. However, the jockey managed to keep Saad in line on outer rails to beat Ronan Thomas ridden Bakir (Amer x Zabieh), trained by Alban Elie De Mieulle, by a length at the post.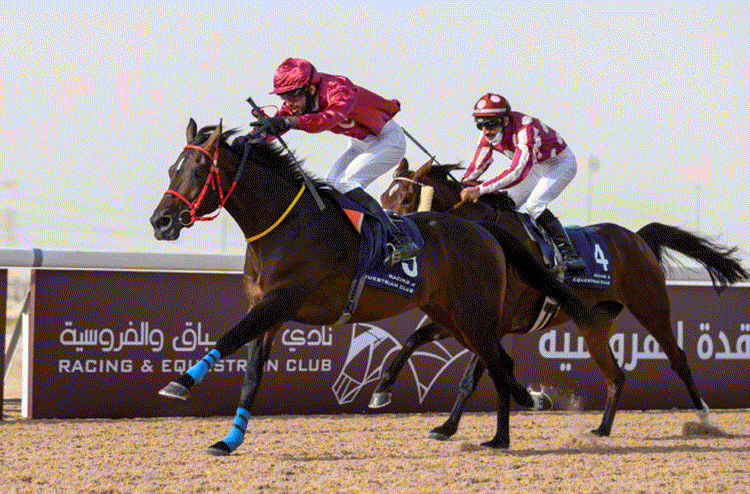 Fajr ridden by Khalid Al Balushi
Al Gaiah Stud's Fajr (No Risk Al Maury x Al Anqa) landed his first career victory when he landed the Purebred Arabian Handicap (75 & below) in fine fashion on Saturday. Helmed by apprentice jockey Khalid Al Balushi, the Khaled Mohamad Alahmad trained 7yo bounced back from forgettable outing earlier this month at Al Rayyan Park when he finished tenth, to win the 1300m run on dirt with a length to spare. Ali Khalid Al Mosallam rode Badira (Al Tair x Moonlit) to runner up place.
Source: Qatar Racing & Equestrian Club. Photos: Juhaim/QREC