Vince Rach wins the Prêmio UAE President Cup Series for Colts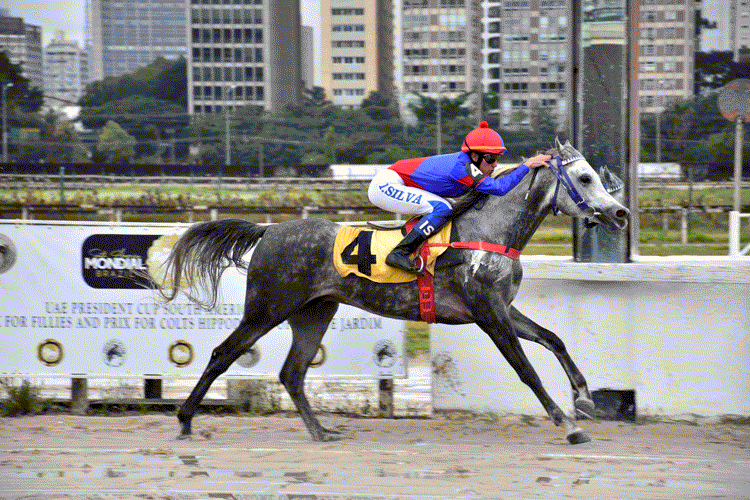 Vince Rach ridden by Idevaldo Silva
Vince Rach, led by Idevaldo Silva and trained by Cláudio M. Silva wins the Prêmio UAE President Cup Series for Colts, eighth race of the UAE President Cup Arabian Purebred Classic Series – South America Mondial Brazil.
Despite the rain, which added one more variable to the race, the animals showed all their dexterity in the soaked sand and put on a show of skill and athletic aptitude.
After a race very well disputed by Molotov AJR (Feitizzo Rach x Miss Dancer LUD by *Almaden II) and Imperion Rach (El Tino x Isis Rach by Vaillant Rach) who set the pace until the entry of the long straight, Vince Rach (AF Ivo x Vauquelin Rach by Memnon Rach), in third place, attacks from the outside and competes with Imperion Rach for first place. It gradually distances itself and quietly opens four lengths of advantage and crosses first.
Imperion Rach maintains second place while Mandato Rach (Erastus Rach vs. Magic All Rach by Ulisses Rach) overtakes the others and crosses in third place.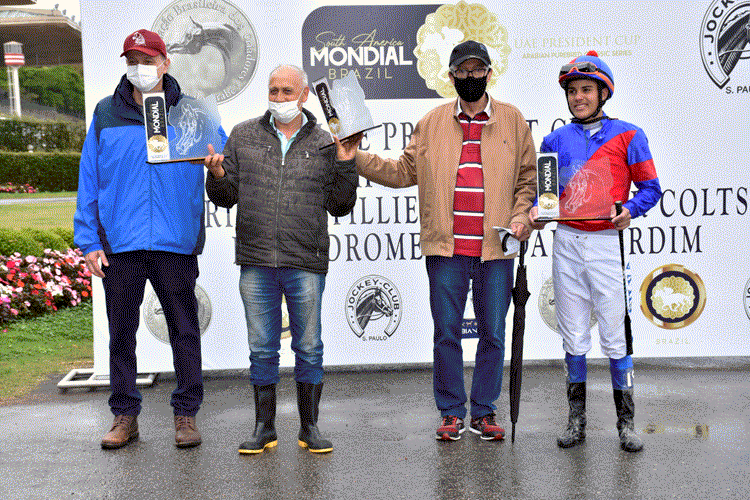 Jockey Idevaldo Silva said: "This time the race was very good for Vince Rach, who already had some good places in stronger races, and I knew I had a chance to win easily. When we started I didn't push him too hard, as we were in third place, but at the entrance to the long straight he was already dominating the race and we kept the pace. I'm very happy with the victory in a very important race like this."
"Vince Rach is a horse that has raced since the beginning of the year, he is more experienced and he had already finished in third and second place and he proved that it was his race and he did it with excellent race time", commented Ricardo Jamil Saliba, Rach Stud Agropecuária Ltd's owner.
Almir Ribeiro, Racing Diretor of the Brazilian Arabian Horse Breeders Association (ABCCA) said: We had the participation of seven males of different owners, which demonstrates the interest of new owners to have their horses competing in Arabian races defending their colors.
"I want to thank our sponsors, HH Sh Mansoor Bin Zayed Al Nahyan, Deputy Prime Minister and Minister of Presidential Affairs and HE Faisal Al Rahmani, President of the International Federation of Arabian Horse Racing (IFAHR) and Director of The UAE President Cup, for the opportunity for us to organize another stage of the UAE President Cup Arabian Purebred Classic Series – South America Mondial Brazil; and for believing in and investing in Arabian horse racing in Brazil."
Seven colts participated in the race disputed over 1,100 m in the sand, 3 years and more without victory, all from different owners, which demonstrates, once again, the rise of racing among Arabian horse lovers in Brazil. Highlight for the breeding horses of Rach Stud Agropecuária Ltda. and Haras Goyothin, main breeders and supporters of Arabian racing in Brazil since its restart in 2013.
Congratulations to our sponsors, breeders, owners and professionals for this show provided by the Arabian horse.
In addition to prizes during races, all horses participating in the 2021 Calendar of Races also compete in the 2021 Arabian Cup, Race category.
The Prêmio UAE President Cup Series For Colts - South America Mondial Brazil is organized by the Brazilian Arabian Horse Breeders Association in partnership with the Jockey Club of São Paulo.
PRÊMIO UAE PRESIDENT CUP SERIES FOR COLTS
1 VINCE RACH (AF Ivo x Vauquelin Rach by Memnon Rach)
J: I.SILVA Ap1
2 IMPERION RACH (El Tino x Isis Rach by Vaillant Rach)
J: V.ROCHA
3 MANDATO RACH (Erastus Rach x Magic All Rach by Ulisses Rach)
J: A. R. OLIVEIRA
4 VENERADDO RACH (Atentaddo VE x Vanna Rach by *Aicyng AHRA)
J: L.HENRIQUES
5 MOLOTOV AJR (Feitizzo Rach x Miss Dancer LUD by *Almaden II)
J: W.ARIEL Ap2
6 MAGNAR RACH (Ragnar Rach x Michelle HVP by Magnun Chall HVP)
J: C.LLOPART Ap3
7 MIGHTY THOR RACH (Ragnar Rach x Miss Magic Rach by Mister Eros HX)
J: O.PEREIRA FILHO
Text: Cidinha Franzão. Photos: Porfírio Menezes