Yoshito Yahagi's Breeders' Cup Distaff winner to run for final time in $20m contest
Saudi Cup the perfect swansong for Marche Lorraine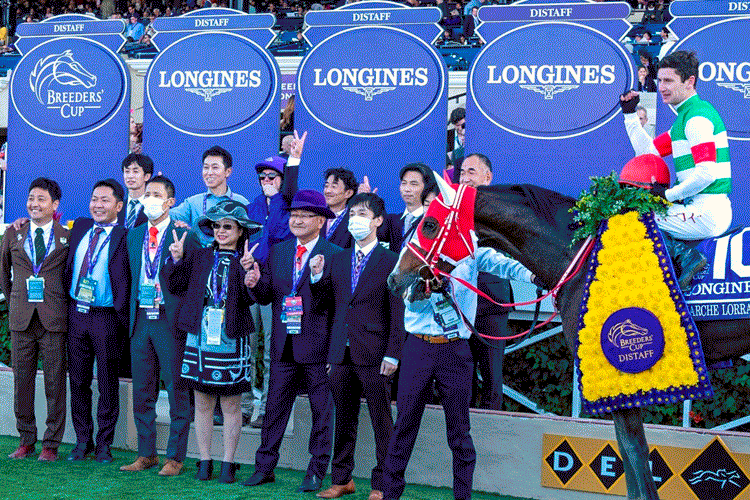 Trainer Yoshito Yahagi (purple hat) celebrating the victory of Marche Lorraine in the 2021 Breeders' Cup Distaff at Del Mar. Credit: Mathea Kelley
Leading Japanese trainer Yoshito Yahagi has revealed The Saudi Cup was the first thing on his mind when Marche Lorraine won the Grade 1 Breeders' Cup Distaff at Del Mar last November.
Despite a possibility that the six-year-old mare would retire after her success in California, connections were keen to run one more time – and the $20m Saudi Cup on 26 February at King Abdulaziz Racecourse in Riyadh will provide the setting for her send-off.
The Japanese superstar recently returned to full training ahead of her Saudi Cup mission and she will join some of the best dirt horses on the planet contesting the 1800 metres contest.
Last year's winner Mishriff, Japan Champions Cup winner T O Keynes and the highly-progressive US-trained Mandaloun are just a few of her potential rivals, with entries from America, Europe, South America and Asia.
Speaking about the decision to run in The Saudi Cup, Yahagi said: "It was immediately after the Breeders' Cup Distaff… I thought The Saudi Cup should be her next race if she ran one more time. There was a possibility that Marche Lorraine would retire after the Breeders' Cup."
"She needed to have a period to relieve fatigue and spent an easy time at the Shigaraki Branch of Northern Farm. She returned to my barn at Ritto Training Centre on January 27."
Three-time Japanese Champion Trainer, Yahagi, was surprised by Marche Lorraine's win in America, but hopes that she can run to that level again in Riyadh and achieve a similar send off to Loves Only You, who followed her Del Mar win with a triumphant final outing in the Hong Kong Cup.
He said: "With regard to the Filly & Mare Turf, I thought Loves Only You had enough ability to win the race, and I was deeply moved to become the first Japanese trainer to win a race at the Breeders' Cup. It was kind of a surprise – even for me – to watch Marche Lorraine win the Distaff to be frankly honest."
"First of all, I want her to complete the race safely, as she will be a mother soon. While I understand the competition is very tough, I hope she performs well enough, like at the Breeders' Cup."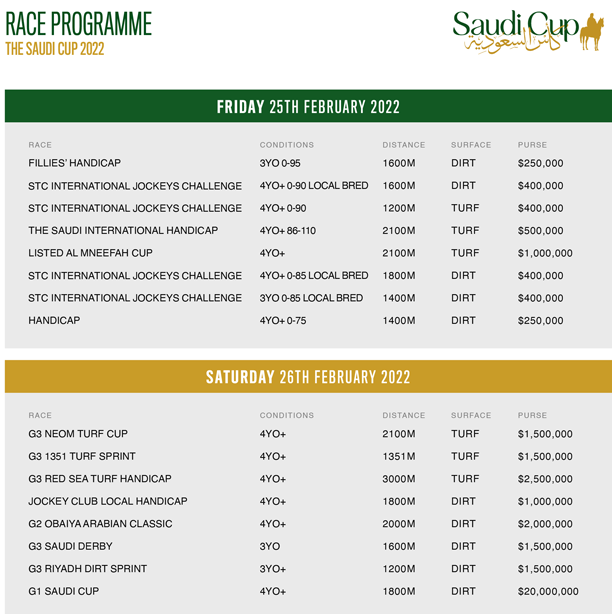 About The Saudi Cup

Organised by the Jockey Club of Saudi Arabia and run at the King Abdulaziz Racetrack in Riyadh, Saudi Arabia, The Saudi Cup is a two-day festival of international racing headlined by the USD$20m Saudi Cup – the world's most valuable race.

Established in 2020 with the third renewal set to be run on Saturday February 26, 2022, The Saudi Cup day card carries a total prize purse of $30.5m and features dirt and turf races for the highest calibre of racehorses in the world.

A full card of racing on the preceding Friday includes an International Jockeys Challenge which sees seven female and seven male jockeys compete as individuals as well as the $500,000 Saudi International Handicap for horses trained in IFHA-registered Part II and III racing countries.

The Saudi Cup is charged with raising awareness of horse racing in the country, encouraging participation among men and women. It also aims to promote Saudi Arabia at international level, acting as a marker for the Kingdom's transformational journey, encouraging tourism and investment.
Source: The Saudi Cup/Media