Again Al Nabooda, Oertel and O'Shea
win double victory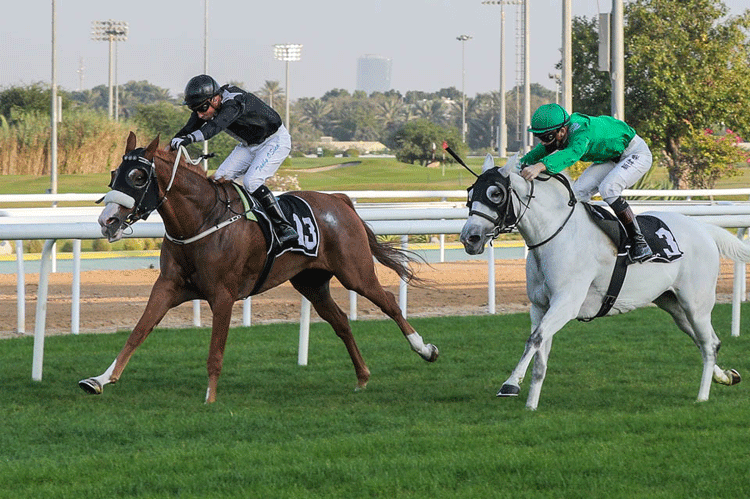 AF Mouthirah ridden by Tadhg O'Shea
The trio Nabooda, Oertel and O'Shea again took centre stage at Abu Dhabi on Sunday evening, January 17, when they won the first two races of the card.
A 1600m rated conditions stakes for mares kicked off the action and the spoils went to AF Mouthirah (AF Al Buraq x AF Kalrami by Ouragan Du Cayrour)who benefitted from a very positive ride from Tadhg O'Shea, but only just. Riding for his main employer, Khalid Khalifa Al Nabooda and the UAE Champion Owner's owner principal trainer, Ernst Oertel, O'Shea was soon in front and committed for home fully 600m out. That manoeuvre had the vast majority of their 13 rivals beaten off before, entering the final 100m, she started to tire. That gave Ryan Curatolo a glimmer of hope aboard RB Dixie Honor (Majd Al Arab x RB Dixie Diva by Burning Sand) and they flew home, but the line came a stride too early to thwart their challenge.
Homebred, the 5-year-old mare was registering a fourth career success on what appears likely to be a victorious swansong.
"She is a very nice mare and one we have always liked a lot so we were very keen to get another win with her because that is probably her last start as she will be off for breeding now. As I keep saying it is a real privilege to ride in these colours and for Ernst who is such a good trainer of these Purebred Arabians and has been in good form all season. Long may it continues", said Oertel.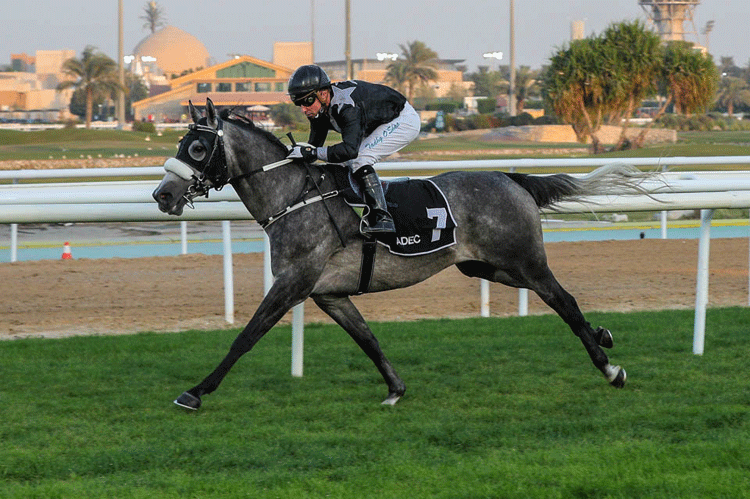 AF Alajaj ridden by Tadhg O'Shea
Half an hour later connections were celebrating a double after the very impressive debut victory of AF Alajaj (AF Albahar x Hathrah by Makzanr), clearly held in high regard by the team, in a1400m maiden. Drawn widest of all in 13, the homebred 4-year-old colt was far from quickly away, but was soon on the coattails of the leaders, O'Shea sat motionless. The Champion Jockey slipped his mount an inch of rein entering the short straight and the race was basically over, the pair quickening clear and galloping on strongly all the way to the line.
O'Shea said: "This is a smart colt and has been from the first day he came to the yard. He has improved every week in his training and that was a very good performance from a bad draw. That is his first time on grass and he works very well on dirt, so we hope he is going to be a very good horse for us."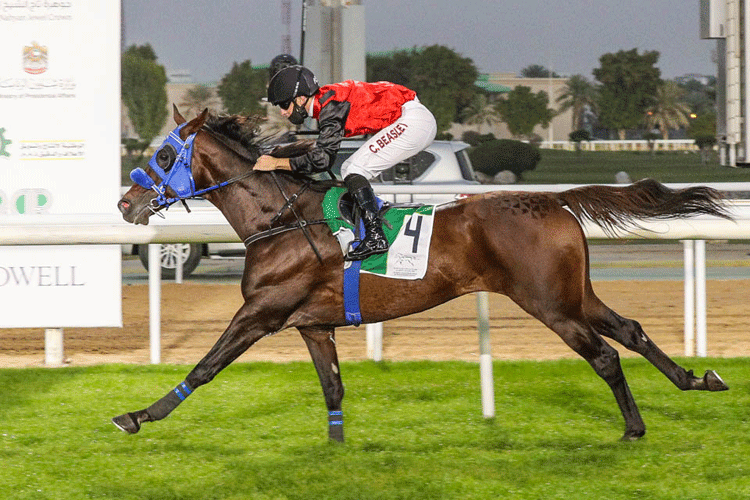 Hawafez ridden by Connor Beasley
For horses in private ownership, a 1400m handicap produced a landmark first victory, after 47 previous attempts, for trainer Abubakar Daud after Connor Beasley was able to weave through rivals aboard, Hawafez (Al Nasr x Early Morning by Johnny Onthe Spot), the pair hitting the front entering the final 200m and winning fairly comfortably. An entire 8-year-old, it was a fourth victory for Beasley's mount, all at Abu Dhabi and thrice over this 1400m. His original success was registered for Eric Lemartinel before Beasley won twice on him when he was trained by Ridha ben Attia, most recently in February 2019.
Beasley said: "I've won here twice on this horse before and he certainly seems to save his best for the grass and the bend here, as opposed to the Jebel Ali straight really helps him. He ran ok at Jebel Ali the last time, but there was no suitable race for him here at the time so it was worth chancing but these are his optimum conditions. They went a decent gallop today which also suited and I was able to find the gaps when I needed them so it all went perfectly."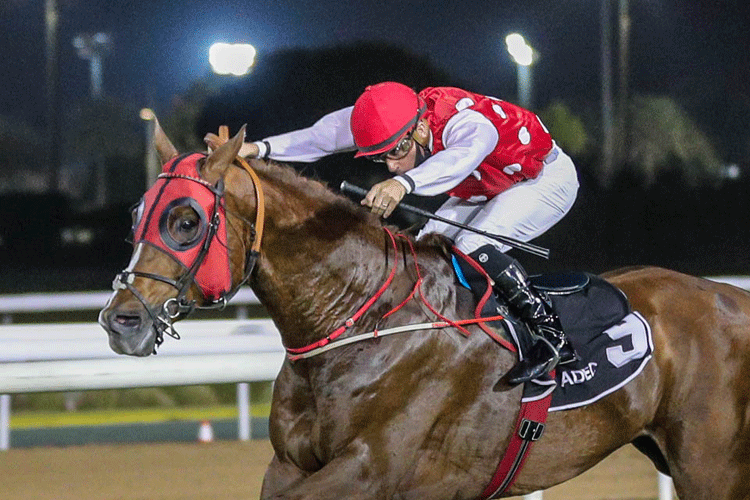 Tair ridden by Fabrice Veron
The Al Asayl team combined to land the 2200m maiden for horses foaled locally, Fabrice Veron performing the steering aboard Tair (TH Richie x Ana Dhabiania by Tidjani) for his French compatriot Eric Lemartinel and the trainer's main patron, HH Sheikh Khalifa bin Zayed Al Nahyan. Previously a maiden after five starts, the homebred 5-year-old entire always looked to be going nicely under Veron and, once asked to challenge, swept to the front inside the final 175m with the race soon in safekeeping.
"I like this horse and am very pleased to have now won on him. This was his only his second turf start and he has done it nicely. We had a good draw and I was always travelling well, so was pretty confident most of the way around, then he picked up when I needed. It was a nice effort", said Veron.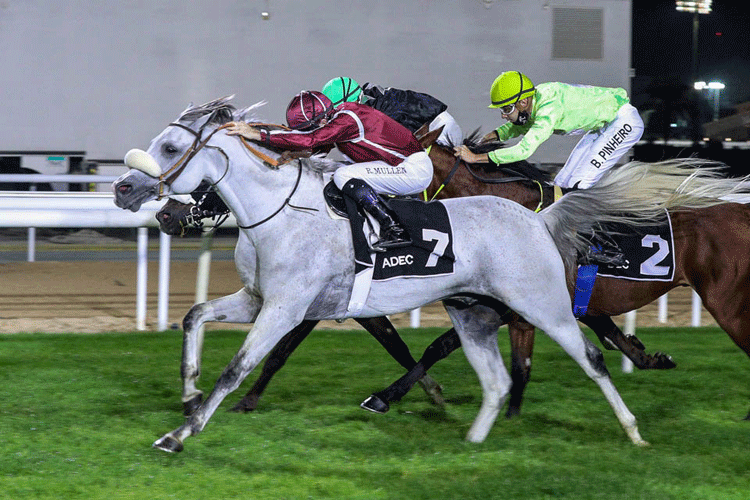 Wakeel W'Rsan ridden by Richard Mullen
Richard Mullen has ridden plenty of winners over very many years for Jaci Wickham and the pair added to that tally in a 2200m handicap, also for those foaled in the UAE, in which Wakeel W'Rsan (Nitagor x Wadouda W'Rsan by Heir Apparentt) registered a gritty success. A maiden after eight starts before opening his account on his previous outing, in a maiden over 1700m at Sharjah, the 6-year-old entire had more of his 11 rivals ahead than behind entering the short straight. However, he finished with real purpose, leading just past the 200m pole and then clinging on grimly from both AF Abahe (Al Kesbe x Kerouane by Tidjani) and Maaly Al Reef (Bibi De Carrere x Matheela by Tibet), the first three separated by a pair of necks.
"He is not easy this horse and can be a bit of a monkey, but Richie gets on really well with him and knows how to ride him. He needs holding up and to be produced with a late run which Richie has done perfectly. He is a nice versatile horse with regards to both trip and surface, so I am glad I persevered with him because, to be honest, I nearly gave up on him at one stage because he was a real monkey", Wickham said.
Source and photos: Emirates Racing Authority