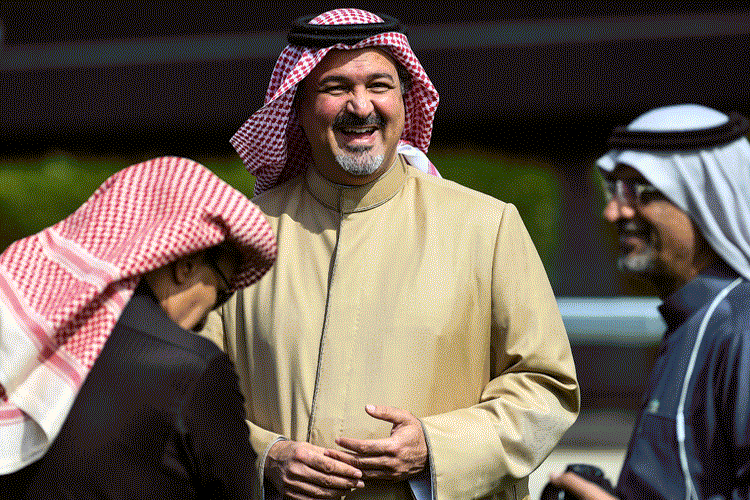 HRH Prince Bandar Bin Khalid Al Faisal
As Chairman of both the Saudi Equestrian Authority and the Jockey Club of Saudi Arabia (JCSA), Prince Bandar plays a key role in the advancement of equestrian sports in Saudi Arabia.
With the backing of the Saudi Arabian government he led a large team to successfully deliver the 2020 Saudi Cup to a very tight timeframe and now turns his attention to the 2021 Saudi Cup.
Under Prince Bandar's Chairmanship the JCSA will work to develop Saudi Arabia's standing in the world of horse racing, utilising strong ties with the sport's governing bodies to shape the Kingdom's domestic and international race calendars.
Prince Bandar was appointed as an Advisor to the Royal Court of Saudi Arabia in May 2017 and is the Chair of the Board of the Arab Thought Foundation, an international NGO which promotes cohesion and dialogue between businesses, academia and society to encourage development in the region.
Prince Bandar is also a Member of the General Assembly of the King Faisal Foundation, a charity supporting research, education and social welfare around the world.
About The Saudi Cup

Organised by the Jockey Club of Saudi Arabia and run at the King Abdulaziz Racetrack in Riyadh, Saudi Arabia, The Saudi Cup is a two-day festival of international racing headlined by the USD$20m Saudi Cup – the world's most valuable race.

Established in 2020 with the third renewal set to be run on Saturday February 26, 2022, The Saudi Cup day card carries a total prize purse of $30.5m and features dirt and turf races for the highest calibre of racehorses in the world.

A full card of racing on the preceding Friday includes an International Jockeys Challenge which sees seven female and seven male jockeys compete as individuals as well as the $500,000 Saudi International Handicap for horses trained in IFHA-registered Part II and III racing countries.

The Saudi Cup is charged with raising awareness of horse racing in the country, encouraging participation among men and women. It also aims to promote Saudi Arabia at international level, acting as a marker for the Kingdom's transformational journey, encouraging tourism and investment.
Source: The Saudi Cup/Media. Photo: Becky Donald